Business Class

Extraordinary
October - 2008
5 Stars & 5 Stripes
Overall - 'Service & Comfort'
The Ultimate Award:
Seven Stars and Stripes®
We experienced British Airways' newly redesigned 'Club World' business class recently from LAX - L.A. to LHR London Heathrow and had an overall relaxing and very comfortable flight. We were delighted to hear that BA is "aiming to have the new Club World cabin implemented on all 747's and 777's by the end of October 2009", quoting their website. The shiny 'New Club World' lounge in Los Angeles was by any means superbly maintained and in one word 'accommodating'.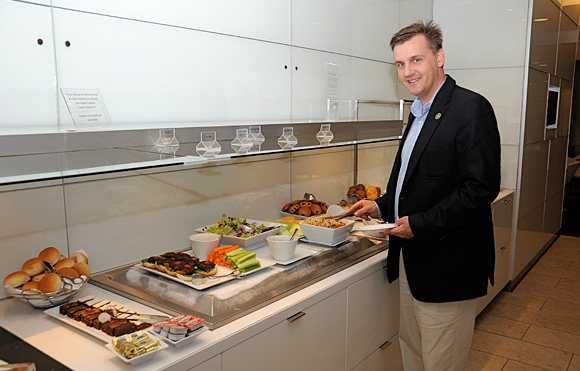 British Airways Business Class Lounge - Los Angeles
The buffet cuisine was diverse, descent and fresh. The modern and sleek high speed IT lounge was equipped with a battery of computers lined up in the business center for those traveling without their own. I had instant success to connect with my office and downloaded e-mails and files on to my laptop so that I would be able to work on my upcoming ten-hour flight to London. Then I decided to checkout the spa facilities; squeaky-clean, well-temperatured and welcoming with relaxing sounds of music in the hallway. The relatively spacious shower facilities featured oversized showerheads, perfect for full body coverage. I recognized Molton Brown's 'cool mentha' hair and body wash, an invigorating shower gel, promoting the feeling of jumping into the shower.
| | | |
| --- | --- | --- |
| Finally we were boarded by a friendly crew and guided to our cabin, which displayed a very effective layout allowing forward and rear facing seating. For us as married couple, we were assigned cabins allowing us to face each other. The new automatic, vertically adjustable privacy screen was no comparison to the old van screens. A footstool allowed us to expand the length of the new extra wide, full flat bed and was also adjustable in height for working and entertainment. | | British Airways - Business Class - Thorsten Buehrmann |
A safety bedside locker permitted us not only to store our valuables and laptops and but also charge my MacBook Pro while I was sleeping. The entertainment system was truly compelling; we watched the lastet movies, as one would do in the privacy of home supported by optimal body recliner capabilities. The cabins were overall very comfortable and clean and all passengers seemed to be pleased with their 'accommodations' and the facilities on board. First we were offered a glass of Charles Heidsieck Champagne Brut Reserve. Not a bad choice, its aging period is said to be longer than other Champagnes; this bubbly comes nicely balanced and lingers. The wine menu displayed a small but adequate list of wines from California, Italy and France.
| | | |
| --- | --- | --- |
| British Airways Business Class - Food | | The table china and setting was classy and nicely arranged. The appetizer of 'Smoked and Pastrami Duck with Waldorf Salad' was attractive and delicious. The overall dining in the clouds experience was a good one, the crew competent and professional and their attention to details appreciated. The missing serving utensil for the bread basket can't be accredited to lack of training of the crew, rather then BA's purchasing department, while the high-edged cut lines of the wine bottle foil, were. |
We woke up rested and ready for a good breakfast and a hot cup of coffee. We landed at Heathrow's 'Terminal Five' and had the pleasure of experiencing the all-time best of BA's 'New Club World' lounges. We had enough time between our connecting flights for showers and an early lunch where the veggies and salads were truly crisp and quickly replaced with new items, while the temperatures were checked frequently. Overall Extraordinaire!
by Simone & Thorsten Buehrmann

Editor: Ingrid Lemme

Editor-in-Chief: John Lomitola
© 2008 ~ Seven Stars and Stripes, Inc.