A340 - Business Class

Extraordinary
December - 2011
5 Stars & 5 Stripes
Overall - 'Service & Comfort'
The Ultimate Award:
Seven Stars and Stripes®
Celebrating the holidays in Europe and especially Germany, second in line claiming to have 'invented' the Christmas tree after Lithuania, was a special treat and I was on my merry way to do just that. Unfortunately my driver and I had been stuck in the infamous New York City evening traffic and arrived too late at JFK's terminal 7 to experience Swiss International's business class lounge. Check-in was most pleasant and quick with barely any waiting time and my Rimowa suitcases were checked-in with priority. I was graciously welcomed onboard and the flight attendants quickly offered to take my long winter coat and stow it properly. Swiss International Business Class has special knobs with wooden hangers for jackets at every seat.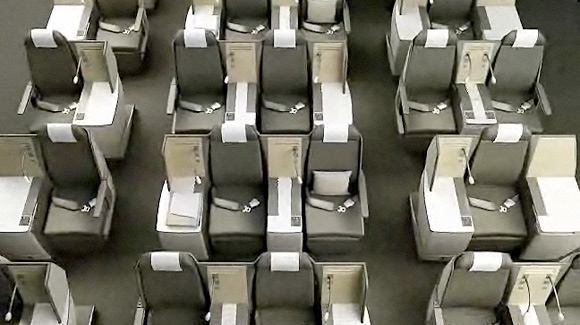 SWISS - Swiss Business Class - Layout
Already during the welcome drink (a glass of champagne or fresh orange juice) I realized that I, as a single person placed at the window of a two-seat row, would not only have little privacy but would unfortunately also have to step over, or wake the person next to me up, to use the facilities. So if you are travelling alone, please make sure to book one of the seats that doesn't have a second seat next to it or consider booking Swiss International's new Business Intercontinental angled seating configuration of 1-2-1 / 2-2-1, which offers better access to your own seat and allows easier access to the aisle and restroom.
| | | |
| --- | --- | --- |
| I was hungry since I had missed dinner in the business lounge, but choose a lighter version 'quick meal' without the main course, since it was very late. The food was fresh and nicely presented on a starched, white tablecloth and graciously served. Witnessing my neighbor dining a full five-course gourmet dinner, paired with some really nice wines, made me wish I would have done the same, especially since I didn't get much sleep anyway. Swiss International's on-board cuisine is excellent, as I will have experienced on my return flight! | | Swiss - Business Class - HeadPhones |
My accommodations for the night were decent; I was able to recline my seat easily to a full flat bed. But the air pillow system really didn't make much of a difference and the massage function was not recognizable probably due to the fact that this was an older plane that clearly had a few hundred thousand miles on its wings. Swiss International offers nicely sized slip covered pillows but unfortunately their blankets do not even come close to the feel of a comforter. Swiss International's amenity kits are always different or were in transition, as on this flight they were fun little metal boxes that included most of the essentials, like socks, a sleeping mask, earplugs, a toothbrush and toothpaste, but no description of the 'ingredients' on the toothpaste, saying only 'Made in China'.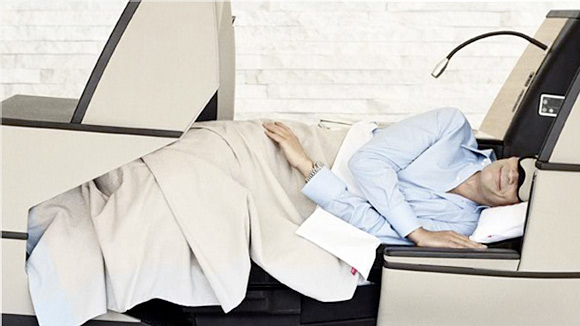 SWISS - Swiss Business Class - Sleep
The personal care products and lotion in the lavatory were from 'Valmont of Switzerland' and especially the little tubes of cellular restoring nourishing cream were excellent. Valmont Laboratories, with HQ on Lake Geneva, are advertising the use of glacial spring water in their products. Other in-flight amenities like a shaving kit, comb, mouthwash, etc are available upon request. Swiss International's in-flight entertainment system was easy to understand and came with sterilized headphones that delivered crisp, clean sound. I did not try plug in my laptop on any of my four Swiss flights, but witnessed that it worked well for others.
| | | |
| --- | --- | --- |
| Swiss - Lounge | | We approached Zurich airport, which with the surrounding mountains, was bedecked with a blanket of snow. Here, with a three-hour layover I was finally able to experience the Swiss Business Lounge for breakfast and check my emails. Please make sure to check out the second lounge level upstairs as well where the actual breakfast buffet is located. Since the Zurich Business Class desk personal were pretty occupied, they forgot to tell me all about it. So unfortunately I had indulge downstairs on a croissant and some of Swiss's luscious chocolates over a fine cup of strong coffee. |
Later on the return to New York, we had booked a room for the night before our departure at an airport hotel at Düsseldorf International, which appeared to be the nearest to our departure hall. Our accommodations at the relatively new Maritim Hotel Düsseldorf (opened December 2007) were excellent. I especially liked the organic green breakfast tea. The Maritim Hotel is said to be the largest conference hotel in North Rhine Westphalia and the hotel was indeed directly connected to the terminal through a walking bridge.

After a most pleasant check-in at Swiss's business counter I was pointed into the direction of the business class lounge at Düsseldorf International, only to find it closed for the holidays. I found a breakfast lounge, which was accommodating frequent travelers of Lufthansa foremost, as well as others. The choice of magazines and the coffee were good and breakfast decent, but no Internet access. It was a quick flight from Düsseldorf to Zurich; a light breakfast was served with gracious smiles along with the always-appreciated treat of delicious Swiss chocolates.
| | | |
| --- | --- | --- |
| At Zurich Airport the business class lounge was closed as well (for the holidays?) and we were relieved when we finally found a lounge with Internet access that seemed to be a busy 'frequent flyer catch all' kind of lounge. Finally we boarded our Swiss A340 airplane and since my return trip to the States was during the day I was looking forward to my "Taste of Switzerland". | | Ingrid Lemme - Swiss - Business Class |
Swiss Air's 'Dining Above the Clouds' experience was exquisite, the service excellent and the tablecloth and napkins white, starched and expertly ironed. "Swiss - Taste of Switzerland" was implemented in '02 and features the cuisine of some of the top Swiss' chefs in first and business. The Seasonal Salad (greens) with Balsamic Vinaigrette came as fresh as it gets, crisp and tasty as if it was somehow just picked at the farm. For my main course I chose the Herb Crusted Halibut with Lobster Sauce, Savoy Cabbage and Baby Carrots, a deliciously ocean fresh white fish delicately ladled with chunks of tender lobster pieces.
| | | |
| --- | --- | --- |
| Swiss - Business Class - Cuisine | | The flight attendant kindly recommended a Charles Steiner Chasselas to go with the fish entrée and with its crisp unencumbered feel, gentle fruitiness and an occasional effervescent pearl, it would have paired nicely, but I chose to have hot tea instead. All the courses were served on white elegant china, with stainless steel flatware. A nice selection of aromatic cheeses, including a small Camembert, followed. I decided to skip the dessert but could not resist on the Swiss Chocolates and a cup of coffee, which made my "Swiss - Taste of Switzerland" complete. |
by Ingrid Lemme

Editor-in-Chief: John Lomitola
© 2012 ~ Seven Stars and Stripes, Inc.