First Class
Society - Extraordinary
July - 2008
6 Stars & 5 Stripes
Overall - 'Service & Comfort'
The Ultimate Award:
Seven Stars and Stripes®
The airline industry, like any other service oriented businesses, depends on the satisfaction of its clientele in an effort to establish a data base from which to draw future customers and their friends thereby building steadily on a successful formula. The fact is that first class travel usually costs twice as much as business class and about twenty times coach class. Does the added cost factor deliver that much more in service and amenities exponentially than the cost of business class or premium economy? The answer to that question lies in the personal preferences of each individual passenger as a product of their tolerance level to comfort and convenience. Our experience with British Airways First Class service between New York's Newark airport and London's Heathrow revealed both, world-class plusses and glaring minuses. Although BA's check-in for first class passengers at Newark was fast and efficient, there was no special service set up to eliminate the 1 1/2 hours it took just to reach the counter from our connecting flight. No escort or concierge service like we experienced in mere business class with Emirates and Etihad. We politely asked if a shower was available in the terminal and were told that we would have to wait until arrival in London, we also could not make reservations for showers in advance for Heathrow.
| | | |
| --- | --- | --- |
| On the other hand, a first class dining facility was in fact available in Newark at the First Class Lounge for those passengers arriving a bit early and not wishing to interrupt their mid-Atlantic slumber with a wake-up call for in-flight dining. There was a three-course dinner with the proper wine pairings available and we took advantage of it since after the long wait in line at Emigrations left us famished. For starters we opted for the Southwestern Corn Chowder, which proved to be tasty with just the right amount of spice to accentuate the thick, velvety soup. The suggested wine pairing was Pouilly-Fuisse, George DeBoeuf 2006, a reasonably good traditional white Burgundy with sourced grapes from the region promising a consistent crisp and refreshing complement. | | British Airways - First Class - PRE Dining - Thorsten Bührmann |
We opted for the Fillet of Beef with Chili Mash, Glazed Onions and Asparagus over the seared Atlantic Salmon with Quinoa Pilaf, even though the later seemed quite innovative in that the chef chose the ancient Incan grain. The fillet was spot-on medium rare (just the way I like it) and placed delicately over the chili mashed potatoes offering just the right amount of heat without drowning out the restrained meat flavor. Add to this a very typical Haut Medoc at its very best and discover the intense, deep, lively color with ripe tannins coupled with aromas of wild red fruits and the end result is powerful complexity. The finishing touch of Vanilla Panna Cotta with Strawberry and Rhubarb Compote brought new meaning to the simplicity of mixing cream with sugar and serving it with fresh fruit. Although there was no dessert wine available I couldn't really complain since I found a decent bottle of Quinta do Crasto 2000 vintage port on the nearby shelf.
| | | |
| --- | --- | --- |
| British Airways - First Class - Thorsten Buehrmann | | This amazing wine is still made by crushing the grapes by foot in stone largares as it was done in ancient times. It was surprisingly smooth, had soft tannins, pleasing clean fruit and perfect acidity. I also got just the slightest hint of sweetness. We were fully satisfied with the selections and quality of the cuisine being offered at the intimate First Class Pre-Dining Restaurant Lounge and preceded to the First Class Lounge area. The majority of the First Class passengers took advantage of this outstanding service. As a First Class passenger, one has the alternative of a faster pre or quick dining experience at the opulent Business Class buffet. |
Upon boarding the aircraft, we found the first class compartment spacious, comfortable but seriously outdated. The antiquated entertainment system looked only slightly better when one compared it to some of the earlier Star Trek television shows. Macadamia nuts were promptly offered by a pleasant, friendly and ever present cabin crew. After take-off, a delightful Lobster Bisque was part of the menu and we took note of its delicious flavor but for the first time we were more interested in falling asleep than eating since we had already dined at the terminal. Before getting ready for bed I decided to try out the comfort factor of turning neighboring first class seats into a semi-private dining venue.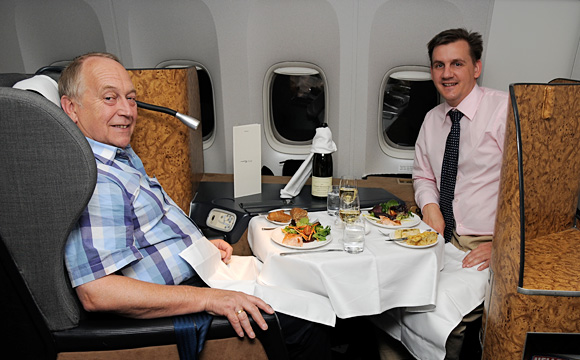 British Airways - First Class - Edmund & Thorsten Bührmann
Team member Edmund joined me in the opposite facing seat so that we could simulate eating together but were disappointed with the reality that you had to be quite slim to enjoy company for dinner. We did see that the bread was served using the proper utensil, a pair of tongs (not like BA's Business Class), while the wine was opened improperly when the flight attendant cut the foil too close to the rim of the bottle, allowing flavor contamination when the wine comes in contact with the lead foil.
| | | |
| --- | --- | --- |
| We asked for a changing room so that we could get into our pajamas privately and were directed to the bathroom. This seemed somewhat of a letdown after traveling on Virgin Atlantic's Upper Class on basically the same route. It was however a relief to find a real mattress, a down pillow and bottled water waiting for us when returning from the facility. I now looked forward to stretching out after changing into my cozy and comfortable BA pajama at the private space. After arrival in London's Heathrow Terminal 4, our connecting flight on BA to Hamburg was scheduled to depart from Terminal 5 in about five hours. | | British Airways - First Class - Bed - Thorsten Bührmann |
We did schedule the long overlay purposely to be able to fully experience BA's brand-new flagship lounge. - As soon as we stepped off this first class flight, first class service stopped abruptly. There was no escort to the bus stop that would take us to our connecting flight. We simply rode with the already filled to capacity one and only bus, standing uncomfortably all the way for 18 grueling minutes, bouncing back and forth until we reached our destination. Edmund and I looked at each other and somehow were thinking the same thing. 'What happened to the special service?' It seemed too high a price to pay for that empty feeling that we were being 'dropped'.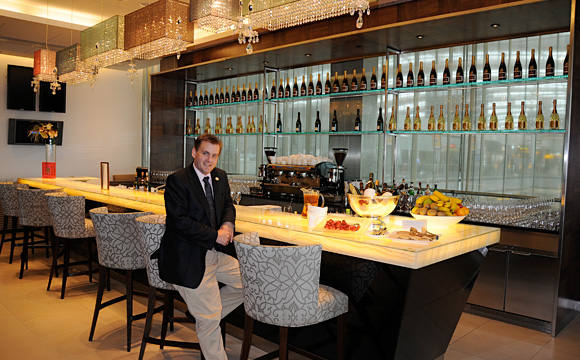 British Airways - First Class / Concorde Lounge - Champagne Bar - Thorsten Bührmann
Things started to brighten up a little when we finally arrived at Terminal 5 and headed straight for BA's Concorde lounge. I planted myself directly at the fabulous bar, immediately ordered a glass of Champagne and challenged the bartender to supply an ample amount of fresh strawberries for the occasion. He complied and I was a happy camper sitting in awe below 50+ bottles of Champagne against the back wall of the bar. Again we asked where we could shower and freshen up. We were told that out of three 'cabanas' with showers, only one was fully functional and there was a five-hour waiting list for that one cabana. An alternative was suggested for the first and business travelers in form of the Elemis Spa located closely in the same building and we immediately sought it out.
| | | |
| --- | --- | --- |
| BA Concorde Lounge Dining - Thorsten & Edmund Bührmann | | Upon arrival we were dismayed to find that the shower was endowed with a concrete floor and when I asked for some slippers to protect my feet from this uncomfortable situation, I was handed two plastic shower caps and told to wear them over my bare feet. "What's this? No flip-flops or slippers?" I asked. Normally I wouldn't complain to the management on site but this area of the spa was in a state of advanced distress and I was truly worried as to the affect it would have if I was forced to walk on the floor without slippers. I was so appalled that I sought out the manager of the lounge and took him for a visual tour of the dreadful condition of the First Class bathroom of the Concorde Lounge. Even after parading him through the area personally, the condition remained unchanged 45 minutes later when I checked again. |
I decided to leave the location and hook up with the WiFi in the Concorde Lounge to establish a conference call with my New York and Europe office. Later, Edmund and I walked over to the Concorde Dining Area and sat together in a comfortable booth to commiserate over a Club burger along with a good, hot cup of soup with some cheese and crackers. It was pleasant to sit for a while before our connection flight. Our flight to Hamburg boarded and we were seated in Business Class due to the fact that there was no First Class service. The aircraft was sectioned in two sides. On the right side there were three rows of seats and on the left side there were only two, ultimately granting more space. Unfortunately we wound up on the fully sold-out business class side with the three rows. We were only one hour away from our destination in Germany so the food and drink service was abbreviated and we skipped this part entirely. All in all, I must conclude that the tremendous extra cost to travel BA's First Class offers only a marginal difference from BA's Business Class in terms of cuisine and comfort while in the air and convenience at the terminal lounges. Not what I call a "decisive moment" when it comes to spending more than double the amount over Business Class.
by Edmund & Thorsten Buehrmann

Editor: John Lomitola

Editor-in-Chief: Ingrid Lemme
© 2008 ~ Seven Stars and Stripes, Inc.