Extraordinary
October - 2011
5 Stars & 5 Stripes
Overall - 'Service & Comfort'
The Ultimate Award:
Seven Stars and Stripes®
The people are what make this airline great and Cathay's service was excellent, once I got on board. I was on the way to Malaysia to rest, relax and review the world's first fully organic spa resort, The Chateau Spa & Organic Wellness Resort in Kampung Bukit Tinggi, Pahang and took the route over the North Pole, New York – Hong Kong – Kuala Lumpur. Cathay Pacific's is the flag carrier of Hong Kong and presently the third largest in the world. Cathay doesn't have its own lounge at John F. Kennedy airport but shares its business class lounge with British Airways. I understand that it was late when I approached BA's Club Lounge desk and the ladies were probably as tired as I was, but since our take off was scheduled sometime after 1:00am it would have been nice to get a little card with the wireless code for my laptop right then at that desk before I sat down in the lounge.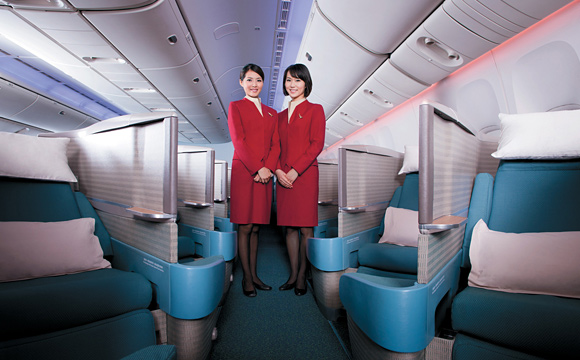 Cathay Pacific - Business Class - Welcome
But the crews on board on all of the four flights I experienced truly went the extra mile with extra smiles. The JFK – Hong Kong crew welcomed us on board with their famous smiles and their Cathay Delight signature drink, a delicious non-alcohol kiwi with coconut juice with fresh mint. Before I continue allow me to quote some interesting details from Wikipedia: "The airline was founded 1946 by American Roy C. Farrell and Australian Sydney H. de Kantzow, with each man putting up HK$1 to register the airline. The airline made the world's first non-stop transpolar flight flying over the North Pole in July 1998, and it also operated the maiden flight to arrive at the new Hong Kong International Airport.
| | | |
| --- | --- | --- |
| Cathay Pacific is a founding member of the Oneworld alliance, with its subsidiary, Dragonair, as an affiliate member…" Cathay's new flat bed business class is said to be excellent with wider space, unfortunately I didn't catch one of these flights. We understand that all their aircraft will be upgraded with the new cabins by 2013. We are advising our readers to confirm this for their own long-haul flights. | | Cathay Pacific - Business Class - Ingrid Lemme |
However Cathay's current flat bed business class cabins, though relatively narrow, were comfortable and put me in charge of my level of privacy by gliding my seat back and forth in my cabin. The function worked of course the other way around as well, allowing one more visibility to converse with a travel companion. With the push of a button, located on the left of my cabin wall, I was able to bring my seat easily back into an upright position for more comfortability during dining or reading (with an adjustable light, which allowed me to adjust the brightness), or watch a movie. I loved Cathay's wonderful duvets; big enough to comfort me (5 foot 5) in all sleeping positions on this full flat bed, and the integrated lumbar cushion, supporting my back.
| | | |
| --- | --- | --- |
| Cathay Pacific - Business Class - Cuisine | | I had familiarized myself with all the on board entertainment system before my flight by watching the new 'Cathay Pacific - The NEW Business Class - Behind the Design' on You Tube. I recommend watching this even if you are flying Cathay's current business class, since the 15.4" TV with all the gadgets seems to be the same. Cathay offers a hundred movies, over five hundred TV shows, almost nine hundred music CDs, over twenty radio channels and over seventy games, in ten languages. |
While on-board I can assure you that I watched three movies during the 15 ½ hour flight, including The Reader which was still on my list. Cathay's Audio and Video on Demand system was relatively easy to handle and the headset really did the job. The storage space allowed me to keep my glasses safe and handy at the same time. I like the nicely presented onboard cuisine overall and especially the service that these amazing teams presented, and that includes the crews of both long haul flights (of about fifteen and half hours each way).
| | | |
| --- | --- | --- |
| The food was severed on white porcelain with neat little salt and pepper shakers that looked like tiny rocks. The appetizers were nicely presented, delicious and fresh and the breadbasket came with warm, fresh and crisp rolls. My first long haul flight JFK - HKG with an after midnight dinner of Szechuan's Chili Prawns with Egg-fried Rice was fresh and interesting and reminded me a little bit of Chinese take out. | | Cathay Pacific - Business Class - Salt & Pepper |
My return flight HKG – JFK, I selected a Braised beef brisket with a spicy sauce, steamed jasmine rice and Choy sum which was truly delicious. Highlighted on the wine list was Deutz Brut Classic, Champagne a first-rate rich and creamy finely grained sparkler, featuring equal amounts of Pinot Noir, Pinot Meunier and Chardonnay. A dense and powerful Domaine des Malandes Chablis 2009 headed up the list on the white side as well as a Mount Riley Marlborough Sauvignon Blanc 2010, which like most New Zealand Sauvignons has a promising nose with fruit structure falling a little flat in the finish. On the red side a Moonvine McLaren Vale Shiraz Cabernet Merlot 2007 intrigued with forest berries and dark stone fruit coxed out of equivalent parts of Cabernet Sauvignon and Merlot, and L'Esperance du Retout Haut Medoc 2009 a deep dark red almost the color of midnight with balanced acidity and long finish. Also available were port, aperitifs, cocktails, whiskeys, cognacs, liqueurs, and an international selection of beers and of course Cathay Delight signature drinks.
| | | |
| --- | --- | --- |
| Cathay Pacific - Business Class - Cuisine | | The mini cheese platter on both flights was well assembled, international, and excellent, so was the Chocolate crisp mousse cake with Raspberry Coulis and the hot tea selection. In the end the stewardess came around with a box of fine pralines to choose from which I found to be a delightful personal treat. Coffees & teas, drinks and beverage were served anytime throughout the flights and also a sumptuous breakfast before arrival or an even more sumptuous brunch after takeoff on my return flight. |
We arrived in Hong Kong sometime after four o'clock in the morning and I was longing for a hot shower. Not to be misunderstood, the on board bath amenity kits were sufficient and allowed me frequently to freshen up, brush my teeth and moisturize my skin. Besides, there was never a time where the bathrooms were not refreshed or the tissues neatly folded once again, but a shower after an almost sixteen hour flight is essential.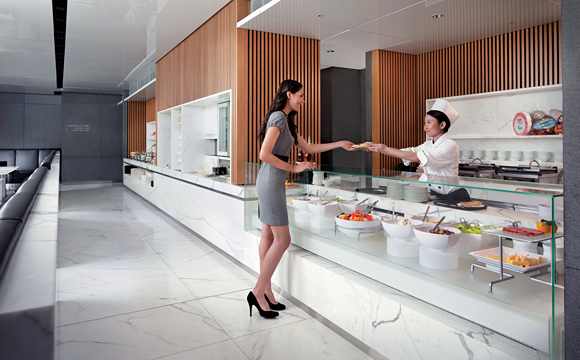 Cathay Pacific - Lounge
It was my intention to go straight to Cathay's business class lounge, a fifteen-minute walk, to find the lounge closed until 6 am. This was not only disappointing for me but also for several other travelers as well. There was no wireless internet available in this area of where the lounge was located but we were able to locate somewhere a narrow desk with a few public built-in monitors which allowed us to go online for fifteen minutes max.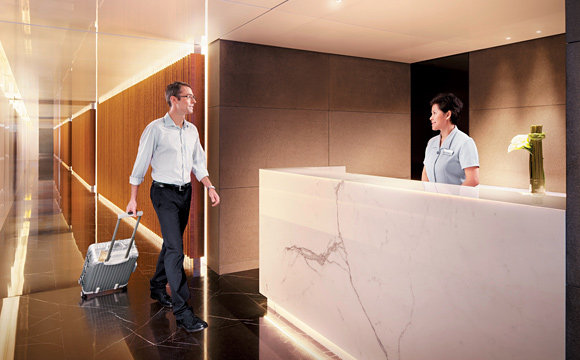 Cathay Pacific - Shower
The showers were amazing, hot, well equipped with hair dryers and well serviced. Once I had some fresh clothing on, I felt better, went to the business lounge checked my e-mails, made some calls, and finally boarded my next flight to Kuala Lumpur after a nice hot, international breakfast. On our frequent travels around the world we often meet people that go above and beyond. I had the great pleasure of experiencing the outstanding service of Kay (SP), Ken (FP) and Kelvin (BC) on flight CX 723 HKG - KUL. They definitely went the extra mile to make us all feel special. The food that was served on Cathay coming from Kuala Lumpur and then from Kong Hong was outstanding.
Seven Stars and Stripes® - 2011 The Chateau - Review & Award


TripAdvisor: Cathay Pacific Business Class
by Ingrid Lemme

Editor-in-Chief: John Lomitola
© 2011 ~ Seven Stars and Stripes, Inc.