Extraordinary - Society
November - 2009
5 Stars & 6 Stripes
Overall - 'Service & Comfort'
The Ultimate Award:
Seven Stars and Stripes®
Not so long ago travelling into the jungle was a thing for professionals and adventurers who were comfortable with a tent or a simple hut. Times have changed dramatically; luxurious jungle lodging is being offered today all around the world to the discerning adventure traveler. Though the volcanologists, zoologists and eco-tourist will most likely assure you that high thread-count sheets or jungle facials are not what they came for, still it might have influenced their destination decision. The Tabacón Grand Spa Thermal Resort of Costa Rica belongs on the top of that list. There are several airlines that provide nonstop service from the US to Costa Rica, but there is only one from Europe that flies nonstop to San Jose, Iberia Airlines. Our experience of their Business Class PLUS service proved to be excellent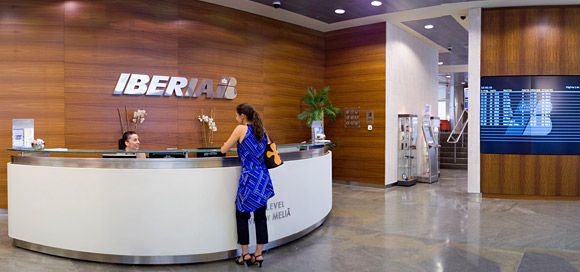 Iberia - VIP Lounge - Entrance - Madrid
We had booked Business PLUS flights with Iberia from Düsseldorf, Germany over Madrid, Spain to San Jose Costa, Rica. We arrived at Düsseldorf during early morning hours, which gave this international European port an unusually calm appearance. Check in was by no means an ordeal, but lacking a little direction. While the tourist check-in line was moving efficiently and quickly, Business PLUS was held up due to a fellow traveler's calamity. Here at Düsseldorf, British Airways is sharing its business class lounge with Iberia and other members of oneworld®.
| | | |
| --- | --- | --- |
| American Airlines, British Airways, Cathay Pacific, Canadian Airlines and Qantas Airways founded oneworld® in 1999 and Iberia, the flag carrier of Spain, joined the alliance in September 1999, stating that they are "providing oneworld® customers with the best and most convenient connections between Europe and Latin America". The business lounge looked great, was well maintained and provided most of what is expected. | | IBERIA - Business Class - Lounge - Madrid |
The two and a half hour, no fizz 'hop' to Madrid passed in no time and we landed smoothly. At the airport some of my fellow Business PLUS travelers and I wished that immigration would have been just that, a formality. With an hour left to my next flight I made sure to experience as much as possible of the ground facilities. These spacious modern halls were delightful and I almost regretted that I didn't have more time.
| | | |
| --- | --- | --- |
| Iberia - Business Class - Thorsten Buehrmann | | From semi private resting lounges and meeting space to delicious cuisine served on delicate bone china and excellent shower facilities, Madrid's VIP lounge is worth a long layover. I boarded in no time. The crew of flight IB 6313 welcomed us warm and graciously on board; coats and spare luggage was stored quickly. I can say that over the next 10 hours I got to experience and appreciate the 'PLUS' added to Iberia's Business class. It definitely belongs there. |
About the on-board cuisine, Iberia's innovative Spanish style menu is said to carry the signature of Chef Sergi Arola; his cuisine made my flight! After the menus and wine lists were presented and appropriate time allowed the diner to read about their choices in English and Spanish, a cuisine cart was pulled that showcased the food choices. 'Early diners' were given a chance for faster service to catch more sleep on the 'red eye'. Trained hands with serving tools were safely reaching into the warm breadbasket and the main courses were served either appropriately hot or chilled. (The bread tongs were entirely missing on my return flight.)

Iberia - Business Class - Cuisine
Mini bottles of organic extra virgin olive oil for dipping and other condiments were part of the table setting of elegant china and solid silverware. The bowl of veal consommé was un-regrettably delicious (I had it all); the Mesclun salad crisp and the beef tenderloin with chestnuts, shallots and pear, in a sweet wine sauce, simply out of this world. I had the cake by Paco Torreblanca for dessert; flamboyantly gourmet! Speaking of which, Paco Torreblanca is regarded as one of the best pastry chef in the world.
| | | |
| --- | --- | --- |
| The charming stewardess who had been designated to our section was professional, delightfully personal, caring and accommodating. Realizing that I didn't seem to be too keen about the after dinner coffee, she offered me an espresso instead, which one may order at any time during the flight. - But back to the creator of Iberia's board cuisine Sergi Arola; he is considered one of the Spain's highly regarded chefs. It is written that his first love was music, but that cooking had become his calling. I don't know about his music, but his on-board menu was a well-orchestrated potpourri. Arola was trained in Ferrán Adrià's kitchen in Barcelona where he worked alongside 'one of the most creative chefs of the world' for 8 years. Gourmet magazine referred to Ferrán Adrià as 'the Salvador Dali of the kitchen'. | | Iberia - Business Class - Sleeping |
Trust me, a flatbed is essential to accommodate today's global business traveler on a long distance flight but it is the little bite-seized things, which make all the difference. I chose a couple of really good Spanish wines for my meal, daring not to ask for any other origin. And sure enough another star discovered, Custodio L. Zamarra, Sommelier of the celebrated Zalacaín restaurant and Chairman of the Sommelier Association of Madrid, had chosen on behalf of Iberia, Spanish wines that he likes and feels will retain their quality at 30.000 feet.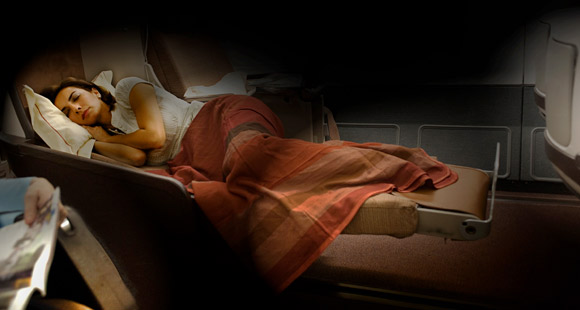 Iberia - Business Class - Sleeping
After my culinary adventure above the clouds I made myself more comfortable to watch a movie. The entertainment center, though rather small, was sufficient - if you are fluent in English and/or Spanish. The most comfortable position to watch a movie in my airbed was the 'Z' position. Later on I took advantage of an easy accessible connection for my laptop and was able to answer some emails before settled in to catch up on some sleep. Iberia allows its PLUS passengers between meals access to a snack bar with pre-packed sandwiches, fruits, snacks, sweets and drinks. I slept soundly for a few hours and woke up right in time for the last on-board meal before landing. There are plenty of different recipes to prepare a terrine of duck liver with cured duck magret Chef Arola's version convinced me to visit his restaurant the next time I am in Madrid.
TripAdvisor: Iberia Business Class Plus
by Thorsten Buehrmann

Editor: Ingrid Lemme

Editor-in-Chief: John Lomitola
© 2010 ~ Seven Stars and Stripes, Inc.