American Dream Airline
The Virgin Atlantic Upper Class receives

Society - World Level Perfection
December - 2004
6 Stars & 7 Stripes for
Service & Comfort

The Ultimate Award:
Seven Stars and Stripes®
As I stared out my downtown office window in Manhattan's Flatiron district, I was mesmerized by the profusion of yellow cabs rushing up and down 5th Avenue in a hurry to capture the next lucrative fare. It was as if a streak of metallic silver infiltrated amongst the cabs suddenly pulled over to the curb and within seconds I received a call from the doorman that my limo had arrived to take me to the airport. I hadn't realized that when I arranged with Virgin Atlantic for a complimentary chauffeur driven pick up, that they would send this fine looking silver Volvo to "collect" me as they put it so elegantly, and take me to meet my outgoing flight to Munich on Virgin Atlantic's Upper Class Service via London. Apparently after "collection" by limo, I will be "deposited" at the Virgin Clubhouse in the futuristic terminal that once housed TWA and now is Virgin Atlantic's center for departures from New York.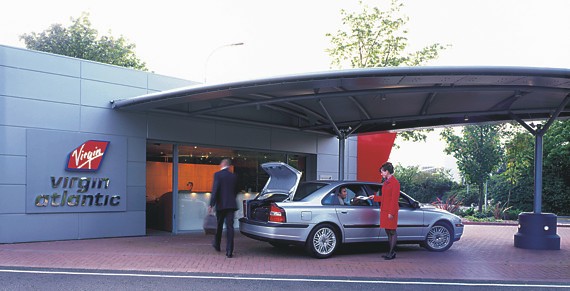 Had I left from London I could have opted for Virgin's 'limobike service' from Central London and Home Counties to Heathrow or Gatwick. Sounds like something to consider on the return leg especially if traffic is dense and time is short! Virgin continues to wow the industry with their innovative and unparalleled way of looking at service options for their clientele, in a way that might best be described as thinking 'outside the box'.

They have even mastered the art of tying in all facets of the Virgin Empire with their flight patrons by offering special events throughout the year at the airport Clubhouses that leave a trail back to Virgin's Megastore for impulsive purchases. This, in my opinion is true skillful, proficient marketing and part of the reason for their continued success. It is even possible to utilize a unique "Drive Thru Check In" which allows you to bypass the terminal and head straight to the Clubhouse. If you have made your own way to the terminal you can still take advantage of "Express hand baggage check in" which is available at a number of airports, as are "Fast Track" passport and immigration channels. Why not think of everything!

Check in was professional and secure and soon I was on my way to the much touted Clubhouse. I was not disappointed upon entering as a charming hostess with a lovely accent offered assistance. My instinct was focused directly on the only red stool at the well designed bar although reason insisted on work at the full service business center.
| | | |
| --- | --- | --- |
| | | I'm happy to report that instinct prevailed and the red stool provided me with a full view of all that was going on around me. Even the bartender insisted on me trying his specialty drink which he called a "Jetstream Glider", which I later found out was a Chopin Cosmopolitan colored with a dash of Chambord. I now had more people asking me what I was drinking and that resulted in many extra "Gliders" for the masses. |
In an attempt to keep things fresh and lively at the Clubhouses around the world, Virgin schedules special events from time to time such as wine tastings (Rancho Zabaco March & April 04), gizmo demonstrations from Sony and iPod and cocktail specialties by featured companies like Bombay Sapphire. After a pleasurable few hours of relaxation, the announcement came on that directed us to the gate for boarding and I reminded myself that Virgin offers a "Revivals Lounge" at the other end of the trip as a sort of refresh and recharge stop after the 6 hour flight from New York. Something to look forward to, after all who could turn down a chance to take a shower, have your suit pressed and check your e-mail before continuing on in the real world.

I had to shake my head a few times upon entering the 'Upper Class' flight cabin of my carrier Virgin Atlantic. It seemed to me that I was on the set of the TV/movie series 'Star Trek' and I was about to be shown to my seat by Star Fleet Commander Captain James Kirk. I looked around the cabin and spotted a futuristic looking counter with stools around it, which upon closer inspection turned out to be a very chic bar. A well dressed bartender was busy polishing glasses and as I passed him I wondered whether or not I had been led back to Virgin's 'Clubhouse' lounge in the terminal. "What time would you like it served?" was the response when I asked the bartender if he knew how to make a 'Jetstream Glider'. This, I was told by the smiling flight attendant, is really the beginning of Virgin's 'Upper Class' flight experience and there are more surprises yet to come.

My flight plans for The American Dream Magazine were to include experiencing what it would be like to fly in the best of the various first class offerings of the different airlines. Then I would be able to award the appropriate 'Seven Stars and Stripes Global Award' as earned through the criteria of service, roominess, amenities and extras. This would be a difficult competition since most of the world's top airline companies now realize that there is a need for such a niche to be filled in the luxury market of traveling connoisseurs, no matter what the expense.
| | | |
| --- | --- | --- |
| Upon being escorted to my seat, I realized that the isle was big enough to walk two abreast and after being seated I was handed a lovely pouch filled with toiletry essentials and then another one with cosmetics after which dinner menu was placed on my tray stand. I continued to explore my environment and noticed that my mood was being calmed into a state of tranquility most likely by the warm glow of the adjustable lighting, which was now set on the intimate. It seemed my seat was large enough to fit another person on this trip to Munich via London, and as I was relishing the comfortable and soft leather another attendant handed me a nice pair of pajamas and warm socks to match. | | |
'This is great', I thought as I wondered how I would be able to change into them with a modicum of privacy and gracefulness. I decided to check out the menu and was impressed with the fact that there are no set meal times and you can eat what you like when you like it. Just think, maybe a sandwich now and a three course dinner later, or visa versa? Suddenly, an attendant with glasses of welcoming champagne approached and offered some to me and it was just what the doctor ordered. I was now in a place where I thought I should be at this time and I could hear that the crew was preparing the plane for departure. I sipped the Jacquart Brut Mosaique NV champagne slowly and it caused me to utter a refreshing sigh of delightful satisfaction. I savored the pear and brioche flavors combined with the delicious and decadent velvety bubbles and I will have a few more before we reach the 33,000 feet cruising altitude.

Just before departure, another lovely attendant working with the flight team knelt down besides my seat and spoke to me in soft, somewhat therapeutic voice preparing me to choose which of the in-flight massages I would like to book for later. I concluded that my mind was now playing tricks on me since who would have thought that it would be possible to experience massage therapy while flying to Europe!
| | | |
| --- | --- | --- |
| | | I asked her to repeat the choices and discovered that I had the option of: Stress Busting - face and scalp massage, Full Back Up - massage to unwind at 30,000ft, Helping Hands - special zone therapy, Hot Hands - a luxurious, hydrating treatment to soften and moisturize or Armed Force - the ultimate stress-relieving shoulder massage. I chose the 'Stress Busting Massage' and now I know that I must be on the Star Ship Enterprise! |
The take off was now in progress and I felt myself sink back in my soft, supple leather seat with the force of the engines. I looked at my personal 10.4" wide screen TV and put on the noise canceling head phones to review what was in store for entertainment. Virgin's programming includes the latest blockbuster movies, with video-on-demand so that you can pause, play rewind and fast forward just like at home.

Suddenly we were in the air and climbing towards cruising altitude. My mind was somehow beginning to reach a blissful state of suspended animation while I zoned out on the possibility of finding my way back to that very chic bar that I saw when I entered the aircraft named "Silver Lady". As my eyes began to wander around the cabin looking for the quickest way to my new destination, I noticed how peaceful everything seemed to be getting as the lights were dimmed and the ceiling of the cabin started to sparkle as if the entire Milky Way Galaxy twinkled above me.
| | | |
| --- | --- | --- |
| I didn't know whether to get up and proceed to the space bar, or just lie there in awe as I watched the cosmos unfold before me. It was only then that I looked in front of me to realize that the seats that were once there now seemed to have disappear and upon closer inspection I noticed that the passengers in front of me had been reduce to a complete supine position. We're talking completely flat at about 180 degrees and at 79.5" even longer that BA's Club World and First Class beds. | | |
I decided to stay put for now and try to achieve the same state of sublime comfort as the passengers in front of me, so I started to play with the automatic seat controls. Simply put, the first sensation was one of sinking directly down into the belly of the aircraft as the seat began its motorized movement. I wondered how far I would have to go before I felt my feet touch the floor, but as the seat reached bottom it began to tilt back and move my head and shoulders down to a fully reclining position of comfort. I was now laying completely flat ON AN AIRPLANE! My feet were no where near the seat in front and my head was now resting as if on some fabulous goose down pillow. I was ready for bed, forget the bar for now!

It seemed like hours of comfortable sleep had gone by when I felt a gentle nudge and heard a soft voice announce that my dinner was now being served. I had forgotten that I had pre-arranged for my meal to be served at this specific time of 9pm EST, around the same time that I am used to eating at home. While the attendant waited, I straightened my seat to the upright position I was neatly served my first course of Seasonal leaf salad with mozzarella cheese, teardrop tomatoes, artichoke, red onion and white balsamic vinaigrette. What a great starter, I thought as I relished the mixture of flavors and textures while remembering the usual rubbery bland tasting fare served on most other airlines. My wine selection for the salad course was Pouilly fume Domaine La Loge 2001 Loire Valley, France that was a crisp and bone dry while refreshing Sauvignon Blanc. For my main course I had chosen the Ricotta filled spinach agnolotti pasta with roasted eggplant sauce, pecorino shavings and eggplant croutons. Once again, a fabulous choice considering the prospects of eating elegant fresh pasta cooked al dente at 33,000 feet. (I didn't know you could even boil water at that altitude.)
| | | |
| --- | --- | --- |
| | | For this course I chose the William Cole Vineyards Merlot Reserva 2001 Casablanca Valley, Chile with big velvety flavors of blackberry and plum and a hint of vanilla and spice. Next came the cheese course with an assortment of Camembert, white Vermont cheddar and Maytag blue cheese accompanied by Bath Olivers water biscuits and grapes. I felt the need for a Chateau Haut Selve 2000 Graves, Bordeaux, France to accompany contrasting flavors of the cheeses as it presented a riot of tropical fruits, melon passion fruit and pineapple balanced with rich oak underneath. Finally a luscious Hudson Valley apple tart with crème Anglaise for dessert topped with Cappuccino ice cream sprinkled with crushed chocolate coated honeycomb. |
Dining in such luxury at this altitude really makes you feel quite tired and I began to doze off to sleep, as the last thing I saw was the attendant clearing my tray and folding a blanket over me to keep me warm. This genuine sincerity and concern pervaded throughout the entire journey and really played a major role in the total satisfaction of my flight experience. Once again, what seemed like hours of restful sleep was gently and softly interrupted by a voice announcing that it was time for my massage. Oh really, I thought as I was being led to the private salon area for my face and scalp massage, what could possibly top this! No other airline offers this feature and few other CEO's like Sir Richard Branson have the audacity to try this innovative service idea.
| | | |
| --- | --- | --- |
| Returning to my 'suite' after the massage experience left me all 'fluffed and buffed', I felt a little like a child's top that had been spun down the airplane isle at a forward angle until I bounced off my seat back to land gently and squarely there. I barely managed to get under the covers again when my eyes shut tight and I drifted off to sleep, with nothing in my mind but thoughts of peace and tranquility. | | |
When compared to the rest, Virgin Atlantic excels far beyond the efforts of the others to produce a truly full service, luxurious and innovative flight experience from the ground up and return. Limo service to and from the airport, expedited drive thru check in (in London and Johannesburg), airport lounge with health and beauty salon, on board bar and on board massage combined with superb cuisine and the most comfortable seats in the business all contribute to the most exceptional flight experience I have ever had, and that's the truth.

CEO Richard Branson
"A business has to be involving, it has to be fun, and it has to exercise your creative instincts." Richard Branson

"Basically, I admire anyone that takes on either the establishment or something like a mountain, and succeeds or fails. As a matter of fact, anyone who tries to do the impossible." Richard Branson
These two quotes epitomize the character of the man who shaped the Virgin Atlantic experience and turned it into a successful business with the power of his entrepreneurial spirit. Called 'crazy' by his friends and associates when he decided to start an airline company and begin operating within three months back in 1984, he preceded head first undeterred with super enthusiasm and competent business savvy.

Since then he has parlayed Virgin Atlantic into the second largest long haul international airline operating out of London with 21 destinations all over the world. In 1999, Branson was knighted for his service to entrepreneurship and in the same year signed an agreement to sell a 49% share in Virgin Atlantic to Singapore Airlines to form a unique global partnership.

It isn't often that you can find a CEO like Branson running a company that serves so many people successfully and reflects the honest enjoyment of involvement at the top.
by John Lomitola and Thorsten Piosczyk

Editor-in-Chief: Ingrid Lemme