Wilhelmshaven, Germany
Extraordinary - Merit
May - 2010
5 Stars & 4 Stripes
Overall - 'Cuisine & Service'
The Ultimate Award:
Seven Stars and Stripes®
The 'onion dome', sitting atop the formidable tower of the Burgschenke Kniphausen is visible for quite a distance over the low-lying farmlands and polders of Northern Germany. It is preserved as the remarkable focal point of a center of power and prestige beginning sometime in the 16th century; a time of Renaissance and Reformation in Germany. Elegant gardens, pastoral landscapes and a hiker and biker's paradise of winding roads over gentle flat land surround the clusters of buildings that make up Kniphausen. (PHOTO TOUR - CLICK HERE)
It is a romantic setting, fit for a King or at least a Prince, since the restaurant has established quite a reputation for culinary excellence and creativity and has attracted the likes of Prince Andrew (accompanied by the British Embassy), Federal President Christian Wulff accompanied by the Chinese Ambassador, Federal Chancellor Gerhard Schröder as well as many top theatre and screen personalities. The power behind this bastion of culinary consistency and dependability is Chef de Cuisine and owner Edgar Lübben and his wife Sabine who together provide the expertise necessary for assuring continuity in even the most minor minutiae.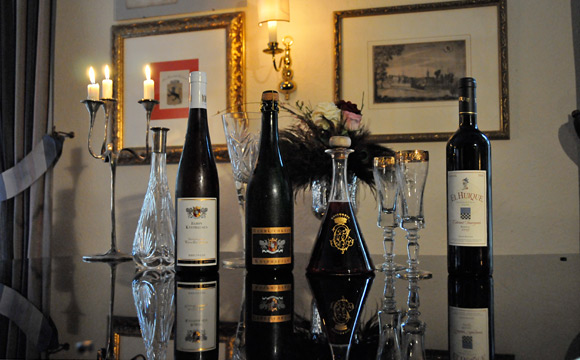 Burgschenke - Burg Kniphausen
It is often said that 'to create something exceptional, your mindset must be relentlessly focused on the smallest detail' and this seems to be the mantra at Burgschenke Kniphausen. The restaurant is located amidst regal landscapes and a collection of period buildings that have been extensively restored over the years of inhabitance. Walking through the lavish grounds today is effectively like being thrown back into a distant place and time and entering the restaurant is a continuation of the same dream-like sensation with authentic Renaissance furniture accents.
| | | |
| --- | --- | --- |
| To further enhance that 'Lord of the Manor' sensation, one of the first things you notice once inside is a very large communal or banquet table, oval shaped and surrounded by plush-leather high backed chairs framed by various curios and object d'art along the adjacent walls. An intricate golden chandelier hangs over the table while off to the left is a picturesque but fully functional fireplace framed in decorative blue porcelains depicting scenes of the local area. All this adds up to a great start with the right ambience, but what about the food? | | Burgschenke - Burg Kniphausen - Table |
Chef de Cuisine Edgar Lübben has established himself in a quiet way, working hard and creating recipes using readily available seasonal vegetables and fruits, meats all sourced locally, thereby transforming this idyllic location into a culinary bonanza. Our tasting menu started out with Liver of Kniphausen Goose, Corn Salad, Forest Berries Dressing and Apple Confetti presented as tender juicy and melt-in-your-mouth house-prepared goose liver with sweet-tart forest berry dressing. The wine for this appetizer turned out to be a Riesling Kabinett from the Rheingau with the Baron Knyphausen Charta 2007, Erbach im Rheingau lable.
Burgschenke - Cuisine
Since it was labled Charta, this signifies that the production adheres to the highest standards set by the regional association. Next came Hooksieler Crab Soup, a local variety from a town near Wilhelmshaven, with a distinct taste of 'Crangon crangon'. Here is where we enjoyed a taste of Herrlichkeit Knyphausen Riesling Brut Sekt, 2002 a delightful dry sparkling wine made with Riesling grapes. Our entrée followed as Turbot Fillet, Stewed on Vegetable Straw with Herbal Sauce. Once again Chef Edgar has taken the 'king of all fish' and turned it into a masterpiece of textures and subtle flavors.
| | | |
| --- | --- | --- |
| Burgschenke - Cuisine | | A bottle of 2007 Erbacher Michelmark Charta Riesling Kabinett brought us to thinking that we might be overdoing it with the same grape varietal until we tasted the incredible difference in the style of the Erbacher. This wine is fantastic with seafood and has an aromatic nose followed by a well-balanced structure and hints of peach and candied fruit. |
An intermezzo of Apricot Ice Cream filled with Champagne offered a small pause to cleanse the palate and savor some more wine. As the late afternoon light made its way through the windows we began our main course of Wild Boar Braised with Savoy Cabbage and Porcini Mushroom wrapped in Bacon. It was surprisingly tasty and not overly gamey in flavor with the right accent on tenderness, accompanied by a hearty demi-glace alongside the earthy essence of porcini infused with the smoked bacon.
| | | |
| --- | --- | --- |
| A bottle of El Huique Cabernet Sauvignon, Colchagua Vally, Chile 2003 Riserva, held up nicely with the hearty boar after 12 months in French Oak and 12 months in the bottle. Its color was dark ruby red, and while swirling in the glass I noticed herbal notes and felt blueberry and blackberry on the palate with a typical dry finish. No meal is complete without a little something sweet to finish off the night. In this case a brightly colored Red Currents in the Nest followed featuring locally found berries with fresh whipped cream and cinnamon drizzled with red current syrup. | | Burgschenke - Kniphausen - Award |
Soon after an incredible selection of Cognacs, Armagnacs, Grappas, Schnapps and dessert wines was presented along with Mocca and Frisian Krull Cakes, a local traditional cake made from an iron mold. We take off our hats to Chef Edgar Lübben and his wife Sabine for the fine cuisine and awesome hospitality and would like to thank Ms. Meike Schuster for her impeccable service and attention to detail.
The award presentation was celebrated with a special appearance of a group of gorgeously costumed and masqueraded people. (PHOTO TOUR - CLICK HERE) - Whether you are celebrating a birthday or a wedding or a special event, a masquerade dinner or ball is unique, but must be booked in advance.
Reservations are highly recommended:
TripAdvisor: Burgschenke - Burg Kniphausen
by Edmund & Thorsten Buehrmann

Editor: John Lomitola

Editor-in-Chief: Ingrid Lemme
© 2010 ~ Seven Stars and Stripes, Inc.