DRAGON PALACE
Beijing - China
Society - World Level Perfection
6 Stars & 7 Stripes
Overall - 'Cuisine & Service'
The Ultimate Award:
Seven Stars Award™
Navigating our way into this iconic restaurant required us to breathe in, and absorb the thousands of years of Chinese history simply by walking through the front door. The entrance itself is of the style and character of a Forbidden City portal, brilliantly constructed to clever and eloquent standards of the ancient emperors who resided there. You must pass by terracotta sentries (CLICK HERE)standing guard on either side of an imperial carriage, originally buried under tons of earth in a farmer's field of Xian. Our hosts at Dragon Palace had even prepared a tasting menu personifying all the flavors of traditional Chinese cookery, with the emphasis on showcasing the creativity of Executive Chef W C Goh, a Malay Chinese native with extensive experience in Classical Cantonese cuisine.
The concept was simple; we were to weave our way through the taste sensations which have influenced Chef Goh throughout his career, combining the local sensuous flavors of Beijing together with the culinary influences of Chef Goh's hometown of Singapore. In place was the musical mood of time-honored Chinese vibrations resonating in the background, including the fleeting sounds of bamboo flutes, lightly plucked bowed instruments and the seemingly random tapping of stone chimes.

Goh Wooi Cheat Cuisine
We were now ready for Chef Goh's degustacion menu after being advised as to the significance of the Dragon in Chinese culture, which represents 'cosmic energy, power and strength'. Starting with The Dragon Palace Dim Sum Platter, consisting of silky smooth goose liver honey eel timbale, delicately deep fried seafood dumpling, a pillow of Beijing duck with leek, and tender honey roasted BBQ pork in espresso sauce. Nothing prepared me for the explosion of complimentary flavors and aromas contained in this tiny package. It seems that sommelier Heng Gui also services Dragon Palace restaurant as well as Via Roma and after his thoughtful analysis of the menu, brought us a super bottle of Kevin Judd Greywacke Sauvignon Blanc, Marlborough, displaying fragrances of citrus blossoms as well as herbal notes turning to tropical fruits and a lemon zest finish.
| | | |
| --- | --- | --- |
| Next up was Fried Prawn Ball in Wasabi Sauce, served with tropical fruit salsa tossed in wasabi mayonnaise thereby adding a spicy Asian punch to quite quickly clear the sinuses! | | Goh Wooi Cheat Cuisine |
We stayed with the Greywacke Sauvignon Blanc throughout the next course of Traditional Chinese Nourishing Chicken Soup, like nothing you have ever tasted. The nourishing part comes from the addition of cordyceps flower , known by Chinese herbalists as the cultivated version of the famous cordyceps mushroom and purported to promote a litany of benefits too numerous to mention here. Chef Goh adds the taste of Jin Hua ham, with a flavor profile similar to that of the dry cured Iberico hams but traditionally dates from the Tang Dynasty of 600 AD. Our courses gradually moved forward with the presentation of Steamed Fresh Cod with Minced Garlic and Soy Sauce (CLICK HERE), comprised of simple fresh ingredients prepared in a typical way, delicately steamed so that the meat of the fish fell lightly off the fork and melted in our mouths .
| | | |
| --- | --- | --- |
| Goh Wooi Cheat Cuisine | | It was by far our favorite dish of the evening and our sommelier eagerly paired it with an elegant bottle of Martin Codex 2011 Albariño Rias Baixas, Spain a typically food friendly wine that is crisp, dry and passionate. |
Our final entree became Braised Chinese Noodles with Lobster, composed of lightly steamed bits of lobster meat topped with red caviar, in a subtle and delicate broth beside a smartly arranged portion of rice noodles representing an intricate subtlety often found in traditional Chinese cuisine but not often as perfect as here. Together with a suggested bottle of 2011 Hugel Gewurztraminer, Alsace it became apparent that the aromatic floral scents gave way to some slight bitterness that was elusive and not all that offensive. We ventured into our final course of Assorted Chinese Desserts consisting of glutinous rice dumplings, pomelo tea and seasonal fruits in ice ball. We particularly loved the pomelo tea served chilled, which tasted like a cross between orange blossoms and a lychee and has the added health benefits of lowering blood pressure and strengthening the immune system.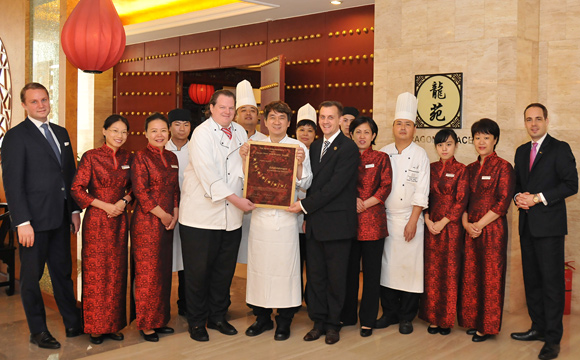 Dragon Palace - 2015 - Seven Stars Award
We came away from Dragon Palace Restaurant with a feeling of acceptance and satisfaction that we had just experienced a master of his trade working his magic through his life's influences and exposure to the beauty and simplicity of authentic Chinese gastronomy.
by Thorsten Buehrmann

Editor: Ingrid Lemme

Editor-in-Chief: John Lomitola
© 2015 ~ Seven Stars and Stripes, Inc.