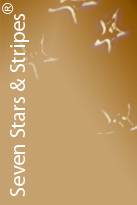 NYC, USA
Extraordinary
December - 2009
5 Stars & 5 Stripes
Overall - 'Cuisine & Service'
The Ultimate Award:
Seven Stars and Stripes®

"Aureole's" new location and ambiance in the heart of the Broadway Theater District is exciting, perplexing and sometimes confusing. However, once you get used to new "vibe" you are assured of a visual and taste treat that cannot be forgotten! The New Aureole has been relocated from its original uptown townhouse and moved to the ultra-modern glass and steel "One Bryant Park Tower". The excitement of Broadway and the crowds mingling outside in and around the theater district are all part of the dining experience at Aureole.

| | | |
| --- | --- | --- |
| The new restaurant shares an alleyway with the Henry Miller Theater, which featured Bye Bye Birdie that evening, starring John Stamos. At about 10:45 PM on theater evenings, a large crowd gathers at the stage door exit for autographs and pictures of the stars. Dining at Aureole in the gourmet dining room also gives you the best seats in the house to experience the stage door exits of the stars when the curtain falls. "Aureole" is fascinating on many levels as it has been created to serve two distinctly different types of sophisticated diners. | | Charlie Palmer's Aureole |

As you initially enter the restaurant through the highly polished glass doors, you enter an area designed specifically for casual dining and for theater goers' looking for delicious, reasonably priced, comfort food: Burgers, chicken, fish, and Pork dishes with a distinctive Aureole interpretation. This large dining area also has a stunning centrally located bar area perfect for businessmen and singles to enjoy while waiting for a table. Theatergoers' on a tight time schedule can eat at a world famous restaurant and still make the first curtain without "breaking the bank."

Charlie Palmer's Aureole

Walking through the main dining room, serious gourmands seeking an amazing culinary experience are brought into a visually stunning, inner sanctum. The intimate square room is surrounded by glass walls and a large highly visual wine storage room. It is here that Executive Chef Christopher Lee, of cable's "Top Chef " fame, brings his full culinary artistry into fruition. The inner fine dining room also provides fabulous "people watching opportunities as well as gourmet food. Aureole offers both a special competitively priced, three course "prix fixe menu" as well as a full "a la carte selection". That evening we were presented with a parallel tasting menu.

| | | |
| --- | --- | --- |
| Charlie Palmer's Aureole - Cuisine | | Our culinary journey began with : Sun Trout Caviar-Peeky Toe Crab, cucumber, lemon powder, dill crème fraiche ice cream. We also sampled American Hackleback Caviar-with sweet corn ravioli, asparagus, horseradish caviar cream fraiche sauce. These delicious and diminutive appetizers were accompanied by a powerfully rich and captivating Krug, Grand Cuvee Champagne, France NV. |

Our entrees consisted of Atlantic Grey Sole, with oven-dried tomato, Meyer lemon, fennel, black olive aioli. The counterpart selection was a plate of Veal Tenderloin and Sweetbreads, charred onion, Georgia peaches, pickled ramps, lovage veal jus. Our wine selection was an incisive Riesling, Domaine Weinback, Cuvee Theo, Alsace France 2007 presenting sharp acid with wisps of mint and lime. When we were sure that we could eat no more, a spectacular third course was presented: Cranberry Beans with Duck Breast, Duck Sausage and Summer Savory, paprika oil and Lima Beans with dry aged beef, cipollini onion tart, cabbage, and NBSP Sauce Bordelaise.

Charlie Palmer's Aureole - Cuisine

Our accompanying wine was a sensational, complex peppery Chateauneuf-du-pape, Domaine Rogger Perrin, Rhone Valley, France, 2007 with excellent balance and finesse. We awaited with much anticipation, Chef Lee's unique dessert presentation; two very different Cheesecakes. One a Blue Cheesecake with port poached figs, and walnut candy, which in truth, I found less than wonderful. I am a big fan of blue cheese but not as a creamy dessert. The other was Philadelphia cheesecake with bing cherries, and tarragon, a more conventional, but truly delicious version. The dessert wine of choice was a concentrated and distinctive Sauternes, Chateau Girard, 1er Cru, Bordeaux, France 1998 which proved a perfect compliment.

| | | |
| --- | --- | --- |
| Aureole is an iconic restaurant with a long history of serving elegant, creative haute cuisine. Chef Christopher Lee has continued this tradition in a beautiful and exciting new setting on Broadway. Our dining experience was enhanced by the exquisite presentation of each dish on fine white dishes and elegant crystal stemware. In truth, our tasting menu was one of the best I have ever experienced. The wait staff and Maitre D at Aureole, were charming, knowledgeable, and very helpful in recommending dishes and discussing the wines. Charlie Palmer continues to set ambitious and exciting trends in dining and ambiance ! For a special evening, the Aureole experience is priceless. | | Christopher Lee |

by Barry & Rita Kay

Editor-in-Chief: John Lomitola
© 2010 ~ Seven Stars and Stripes, Inc.