Michael & Thorsten & Klaus

American Dream Cuisine™
Kaefer Haus - Oktoberfest
In Munich, Germany receives

'Unrated but Worth a Visit'

The Ultimate Award:
Seven Stars and Stripes ™
Thorsten enjoyed showing me around the grounds and as we searched for the Kaefer Haus we couldn't help but marvel at the tremendous variety of local fast foods and the selections of beers available at every corner. We wound our way around the tents and amusement facilities stationed there until we found ourselves at the entrance to the establishment we were looking for.

Michael Kaefer is well known in Germany as somewhat of an entrepreneur and head of the global company call Kaefer Feinkost, whose special expertise is arranging events from an exclusive intimate dinner for two all the way up to epicurean dining for 10,000 anywhere in the world. We caught up with him soon after arriving at the door, but every time we managed to start up a conversation, we had to move to let somebody pass as they were in the process of serving approximately 10,000 discerning patrons on this particular day.

Michael invited us to sit with him in the main dining room which was tastefully decked out in the traditional old fashioned elegant Bavarian wood trimmed décor. Even though each table had been reserved ahead of time some for as much as a year, Michael assured us that the American Dream Team was of course always welcomed even on such short notice. He began to explain to us his philosophy of a successful operation: well prepared gourmet comfort food at a reasonable price delivered in a reasonable time, in other words good value. It was obvious that his formula was a winning one considering the sheer volume of people scurrying back and forth all around us, many of them from all over the world.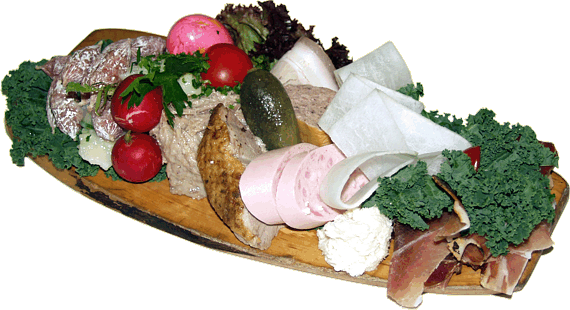 It was time to sample some of the local specialties that the Kaefer Haus had to offer. Michael recommended a 'fleisch braetl' for Thorsten to try as this was a sampling of various meats such as duck breast, cured aged ham and of course 'wurst' along with hard boiled egg, pickle, radishes and a hunk of black farmer's bread. For me we decided that I could try the 'kaiserschmarren', a sort of egg rich pancake that has been chopped up and sprinkled with powdered sugar and served with a sweet fruit compote made from plums. WOW!

Thorsten Piosczyk & Sabine Käfer
And what would all that food be without a couple of giant sized liters of fresh brewed Oktoberfest beer.

Thorsten needed no excuse to find the most beautiful girl in traditional costume to pose for a picture with the beers only this time it was Michael Kaefer's wife Sabine a former fashion model.

Good taste Thorsten!
By this time it had become almost impossible to remain in the dining room as many more happy patrons began filling up the tables and so we made a move for the kitchen. Michael was proud of this part of the operation more so than the front of the house as the necessity for assembly line -like techniques was essential and after many years of operation well perfected. The Executive Chef Klaus Geimann greeted us over the din of the well oiled machine hitting on all cylinders and made an effort to be heard.
He assured us that the volume of food that gets produced in his kitchen does not mean that the quality or taste has to suffer. We could certainly attest to that since our own experience was one of inspiring satisfaction.
Our curiosity peaked as our host allowed us to photograph actual orders of food being set up for delivery to the guests before being sent out.
The selections that we photographed all had one thing in common: they were well prepared, earthy and simple fare sometimes called comfort food back home. The pictured dish consisted of roast duckling with red cabbage, potato pancake and fresh made apple sauce. In the center was a small cruet with the pan drippings ready for dipping with a hunk of your favorite 'bauernbrot' or farmer's bread.
A lot of Bavarian food can trace its tradition back to the time when the people lived off the land literally by eating the wild foods of the forest and prepare them freshly each day at home.
The loin of venison pictured on the left is one of the favorite foods of the hunters of Bavaria past and present. This filet was grilled, sliced and served on top of 'spaetszle', a sort of gnocchi made from egg and flour.
Thousands of people pass through the doors of the Kaefer Haus each day and the food remains consistently good to the gustatory satisfaction of the masses. Of course what could possibly go better with all this earthy, old fashioned country food than the national beverage of the land, beer.
Thorsten figured it out right away that it would take an awfully special beverage to accommodate special flavors of the Kaefer Haus menus.

The beverage of choice was a 'no-brainer' of course since at this time of year, more beer was being consumed here at the fairgrounds than in some small countries during the course of a year.

Since Thorsten never does anything in a simple manner like just ordering a beer from the waitress, he called her over and issued a serious challenge.
"How many liters of beer can you hold at one time?" he dared and promised to drink them all if she could hold ten or more.

It was obvious to everyone but Thorsten that this time he may have met his match.

It seems that he picked on one of the most experienced employees at the Kaefer Haus who promptly rushed away to make him drink his words and returned with ten nicely foamed Oktoberfest drafts ready for consumption holding approximately 40 pounds and smiling no less!
It was very exciting to be in the midst of such a bee hive of activity and see things from the perspective of behind the scenes with the well-known owner himself, Michael Kaefer. Everyone that we spoke to in Germany knew about this legendary center for celebration and although many have tried to get in for years without success, it seems that they just keep on trying.
| | | |
| --- | --- | --- |
| John Lomitola & Thorsten Piosczyk | | It was time to move on and Thorsten suggested that we find another fun filled location that we might be able to sit down with some people to have a few 'Lowenbraus'. We walked from tent to tent observing thousands of well behaved people mostly complete strangers, sitting next to each other with only one thing in common, that is to enjoy the moment with your neighbor and your friends. Our biggest dilemma was where to sit and as we moved through the crowd the sound of Bavarian Um-pah music and the sight of people dancing on the tables filled us with joy as we tried to figure out who might be the most fun to be with for a few brews. |
We felt way too overdressed for the occasion since we had just finished our wonderful event at the Kaefer Haus but some party goers motioned us to sit with them and the two of us borrowed some hats to have our picture taken. The smiles tell the whole story!
by John Lomitola & Thorsten Piosczyk

Editor-in-Chief: Ingrid Lemme