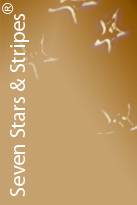 La Fortuna - Costa Rica
Extraordinary - Society
November - 2009
5 Stars & 6 Stripes
Overall - 'Cuisine & Service'
The Ultimate Award:
Seven Stars and Stripes®

I spent virtually my entire life searching for locations like this one, private yet accessible, up to date yet old world quaint and romantic with an accent on sensuous. Although this pretty much sums it up for Los Tucanes Restaurant, a special place to share your wild soul with someone you love, you have to truly experience the deft handling of superb cuisine and glorious atmosphere by being there. The restaurant is the culinary focal point of the Tabacon Grand Spa Thermal Resort, set up in a rainforest atmosphere and dominated by views of the towering Arenal volcano, which performs nightly fire and lava shows as if on cue. Uwe Wagner, the GM of the entire resort has a personal goal in his business life that is to bring world-class, heart-healthy cuisine to the jungles of Costa Rica in an eco-friendly way. For the job at hand, Mr. Wagner hired F&B Director Leopoldo Cortes who oversees the restaurant operation together with Executive Chef Imade Budiana and Executive Chef de Cuisine Pravesh K. Bhatnagar.

| | | |
| --- | --- | --- |
| They have come up with a unique way of combining elements of Ayurveda, a healthy way of eating developed in India, and classical cuisine. They feel that their menu at Los Tucanes combined with the curative aspects of the Tabacon Grand Spa Thermal, will allow healthy people to stay healthy and others with health challenges to improve their overall wellbeing. I can't think of a better way to spend quality time with a loved one than to experience the total program of healthy eating and restorative treatments, in this idyllic atmosphere. | | Los Tucanes - Cuisine |

The menu at Los Tucanes is based on experiencing the six tastes of sweet, sour, salty, pungent, bitter and astringent, which in turn should always be included in a balanced Ayurvedic diet. An opening course of Foie Gras Terrine with black truffle, caramelized apple and red fruit sauce, one of the most extreme delicacies of French cuisine proved to be a tantalizing prelude of things to come. The aromatic scent of earth and mushrooms instantly radiated throughout the room originating from the small amount of black truffles on the foie gras. This was followed by Tomato & Saffron Consommé with Fresh Holy Basil further adhering to the principles of Ayurveda by cooking with one of the most sacred and important herbs in Hindu traditions, holy basil. As its flavor intensifies with cooking, holy basil is thought to help the body cope with stress.

| | | |
| --- | --- | --- |
| Los Tucanes - Cuisine | | The next course of Trout Filet with Scallop Mousse, almond, steamed asparagus and dill sauce was a carefully arranged filet of trout placed over four asparagus topping a bed of scallop mousse. In keeping with the Ayurvedic cooking techniques, the spices are first sautéed in ghee, a clarified butter, which brings out their intense flavors and therapeutic value. The wine pairing was a creamy velvet Marques de Casa Concha 2007 Chardonnay, Concha y Toro, Chile offering a refined abundance of white fruits and soft oak to go perfectly with the exotic herbs and spices of Ayurveda. |

After an intermezzo of Rose Sorbet to cleanse our palates, we were ready for the main course of Tandoor Smoked New Zealand Lamb Chop, with mint Basmati rice and fenugreek tomato sauce. The lamb chops are coated with a paste made of ginger, cumin, paprika, turmeric, coriander, cayenne, garlic, lemon juice and oil after which they are placed into a special 'Tandoori' oven that quickly cooks the meat at an intense heat thereby sealing in the succulent juices and delivering that awesome rose-colored pink throughout the chop. This was accompanied by a bottle of Luigi Bosca Malbec Reserva, 2006 Argentina harvested from grapes grown almost 1000 meters high in the Andes, presenting soft, sweet tannins coupled with hot spice and berries enveloped in a deep oxblood red.

2009 Los Tucanes- Seven Stars and Stripers® - Award-Hand-Out

Our evening wound down with a presentation of Chocolate Petit Fours, a striking display of creativity and innovation, along with dessert of Raspberry Tart with Rosemary Flavored Vanilla Ice Cream. The savory rosemary worked better than I expected infused in the vanilla ice cream, but the addition of the crisp mille-feuille puff pastry with fresh raspberries could only be described as 'heavenly'. Our overall experience at Los Tucanes once again was fresh, original and very satisfying. The food is consistent, creative and healthy and the service professional and attentive.
by Edmund Buehrmann & Thorsten Buehrmann

Editor: Ingrid Lemme

Editor-in-Chief: John Lomitola
© 2009 ~ Seven Stars and Stripes, Inc.