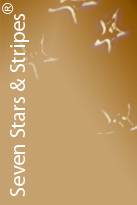 World Level Perfection
December 2012
7 Stars & 7 Stripes
Overall - 'Hotel & Service'
The Ultimate Award:
Seven Stars and Stripes®

The Seven Star team's most recent travel agenda included a review of the "world's most luxurious hotel", Burj Al Arab (Tower of the Arabs). We have travelled several times around the world during the past decade and our team was truly looking forward to reviewing Dubai's most iconic hotel (CLICK HERE to take a closer look). Although no longer the world's tallest hotel, Burj Al Arab is still Dubai's most iconic building, featuring the world's tallest atrium (180 meters = 590 ft), residing on its own manmade island and resembling the billowing sail of a dhow. Suitably, we had booked 1st class suites (CLICK HERE) on Emirates Airlines 777ER and landed close to sunrise in the cosmopolitan metropolis of Dubai.
The Emirate of Dubai is located south east of the Persian Gulf on the Arabian Peninsula and is one of the seven emirates of the UAE. We sailed through passport control and customs and right into Jumeirah's arrival suite, located on the way to the main arrival hall. Burj Al Arab is part of the Jumeirah Group, which is a member of Dubai Holding. Here we were welcomed and informed that a host would guide us to the main entrance where the driver of a Rolls Royce Phantom was already expecting us. When we approached the stately white Rolls we got a last glimpse of our Rimowa luggage being stored in the trunk, were seated, offered cold towels, drinks and a leather-bound music menu. A light jazz medley accompanied us to Jumeirah Beach where we reached, after thirty minutes, the bridge leading to Burj Al Arab over the turquoise waters of the Arabian Sea.

Burj Al Arab - Arrival: Thorsten Buehrmann & GM Heinrich Morio

Our arrival at Burj Al Arab was of true Seven Star style. Four lovely hostesses and a host welcomed us in the tradition of Jumeirah - with warm smiles, cold towels, Arabian coffee, sweet dates and chilled rosewater. Much has been written about the decorative style of Burj Al Arab, some overwhelmingly positive, some otherwise. One thing is for certain; entering Burj Al Arab for the first time and looking up (CLICK HERE) the tallest atrium lobby in the world will definitely take your breath away. While the exterior of Burj Al Arab appears ultra-modern, its interior is an anthology of interesting and well-appointed copious styles, splendidly dressed in 24-carat gold leaf. On the way to the elevator that would usher us to our accommodations on the 19th floor, we passed fascinating water installations (CLICK HERE). It seems incomprehensible that fifty years ago Dubai had no running fresh water. Burj Al Arab hotel features twenty-one residential floors, accommodating two hundred and two suites, of which the smallest is just over 1,800 square ft. and the largest close to 8,400 square ft.
Upon entering, I stepped into the lower level of my duplex suite (CLICK HERE) which featured a living room with a spacious lounge, a dining area for four, a bar counter and a guest powder room. A well designed spiral staircase then lead me to the upper floor featuring my bedroom (CLICK HERE) with a king-sized bed, a dressing room, and a lavish bathroom with a shower and a Jacuzzi tub. The bath facilities were set in precious, colorful Arabian-influenced mosaic tiles with a display of Hermes bath amenities. The butler mentioned that one may take the full-size His & Her set home if so desired. Here in the privacy of my suite with classy-cozy furnishings and Arabian influenced decorations, I was finally able to relax. While the butler was unpacking my Rimowa luggage I took a long, hot shower, slipped into my bathrobe, took my camera and succumbed to the beautiful views (CLICK HERE) of the Arabian Gulf. After I got dressed we met for a tour of this fascinating hotel and lunch at the Al Muntaha (CLICK HERE), which means The Ultimate or The Top in Arabic.
On the way to the elevator we passed the butler on the nineteenth floor, which inquired kindly after our wellbeing and asked if there was anything that she could do for us. There is a butler's desk on every floor with butler service and another lift to the top floor with a panoramic view that we, unfortunately, did not get the chance to experience. Entering Al Muntaha restaurant is an experience in itself, 200 meters or 665 feet above sea level with unparalleled views (CLICK HERE) of The Palm, the World Islands and Jumeirah Beach make the perfect match for the cuisine and service we experienced here. I had the hand cut Wagyu Beef Tartare as my appetizer and an exquisite pan-seared sea bass of delicate white meat with a crisp crust cooked to perfection by a true master of his trade. To experience Burj Al Arab from all angles we decided to take our coffee at another hot spot, the very base of the world's tallest atrium (CLICK HERE).

| | | |
| --- | --- | --- |
| Here at 'Sahn Eddar', with magnificent water spiels (CLICK HERE) as our backdrop, we indulged in a fine cup of Arabian coffee, while others enjoyed a drink or a traditional afternoon tea. Sahn Eddar's unique silver condiment displays (CLICK HERE) left nothing to be desired. We were told that the water spiels shoot water jets that reach as high as forty meters in the air by the hour. Sahn Eddar in the expansive atrium of Burj Al Arab is as unique and impressive a setting as one could possible imagine, that is, until one decides to dine at Al Mahara (The Oyster Shell) (CLICK HERE). Al Mahara features a fascinating seawater aquarium, holding roughly 990,000 L (35,000 cu ft) of water and is made of 18 cm (7.1 inch) acrylic glass to hold up to the water pressure. Here a dinner conversation (CLICK HERE) definitely, if you'll pardon the pun, never runs dry. Fascinating is an understatement. | | |

From our evening's seven-course menu we tasted the Amuse Bouche, a Lobster Bisque (to die for, this one is worth alone to dine here), Poached Tsarskaja Oysters, Lobsters from Maine with oxtail and lobster jus (I thoroughly enjoyed the interesting combination), Fish Pot au Feu in a Bouillabaisse Consommé and the Grilled Wild Sea Bass with Grilled Endive. The sommelier elevated each course to another dimension, cuisine and wine paired in perfect harmony. The cuisine and presentation at Al Mahara (CLICK HERE) was incandescent and mouth-watering and its level of service luminous. Of course, we decided to take our nightcaps at the Skyview Bar, located adjacent to Al Muntaha restaurant where we ordered two freshly drawn beers. The breathtaking views from here at night make the perfect backdrop for a romantic evening.

Award-Hand-Out: Burj Al Arab - Seven Stars And Stripes - Award

Unfortunately, being jetlagged and too tired to appreciate the weightless tunes of the jazz trio or the elegant company, we excused ourselves for the night shortly thereafter. Following a deep and relaxing rest, I awoke the next morning to startling views set against the calm turquoise sea; which were actually topped when I dove up from beneath the water of the infinity pool (CLICK HERE) later on. Stunning is the only description for the views from the 18th floor over the Arabian Gulf, so is the pool's dramatic setting. This pool belongs on the list of the most amazing pools of the world. The Assawan Spa adjoins, spilling over two floors the sparkling, state-of-the-art spa was perfectly appointed. The yoga and fitness studio boasts views of Palm Jumeirah, the smallest and the original of three Palm Islands. The level of service we experienced during our stay at Burj Al Arab was what one would expect from a true Seven Star hotel or resort. This hotel is uncompromisingly well managed by GM Heinrich Morio and his team is impeccably well trained; definitely living up to its reputation.
by Edmund & Thorsten Buehrmann

Editor: Ingrid Lemme & Douglas MacKaye Harrington

Editor-in-Chief: John Lomitola
© 2012 ~ Seven Stars and Stripes, Inc.