St. Moritz, Switzerland
Extraordinary - Society
2004
5 Stars & 6 Stripes
Overall - 'Hotel & Service'
The Ultimate Award:
Seven Stars and Stripes®
The lead up to an early spring trip to Switzerland for the American Dream Team and its evaluation schedule for resorts in St Moritz, Vaduz and Arosa was remarkable. On the horizon prior to departure from the US, there was the prospect of experiencing some of the best run resorts in three of the most fashionable and picturesque areas of this fairytale land. What could be better than snow capped mountains, crisp fresh air and Swiss hospitality at its best! The biggest question preceding our excursion was "What shall we pack"? Our intellect said that Switzerland in the early spring in all probability should be cold with lots of snow. Local residents would be bundled up tightly and getting around on skis and 4x4's in their daily routines. Roads would be impassable forcing the population to live underground and in tunnels. Right?
Our flight from New York on Swiss Air was smooth as silk and we landed in Zurich fully rested after delightful experience in the newly upgraded Business Class service.

The biggest worry we had was the amount of luggage we brought with us to combat the 'weather elements' of this apparently hostile country. We arrived at the 'Zentrum' station in Zurich and started to look for the address of the local 'Europe by Car' rental office.
It was only after several discussions, bags toppling at curbs and asking for directions in my primitive 'Switzerdeutsch' that we decided to hail a cab. Upon reaching our destination (literally around the block) I began to understand the meaning of the wry smile of pity that was on the cabdriver's face when he was filling the trunk and the back seat with our belongings.

It felt so good to be free again with all of our stuff in the back of a brand new Volkswagen Passat 'Kombi', or station wagon as we know it and be on our way to St Moritz, our first destination. Much has been written about this fashionable ski resort located in the heart of the eastern canton of Graubünden and our hearts raced as we slowed to a crawl during the afternoon gridlock traffic of downtown Zurich. Jet lag began to overtake my wife Phyllis as I noticed her softly lowering her head each time I applied the brakes in traffic. A quick thought of all my winter clothes in the back was forced out of my head by the continuous streaming visual spectacle before my eyes as the pace picked up on the autobahn. Before I knew it I was now traveling at about 160kph or approximately 100mph with very little effort it seemed.

My wife the navigator figured out that we had to cross one of two critical mountain passes in order to reach St Moritz in the beloved Engadine Valley. There was a distinct possibility that either of them could be blocked with snow. But how to choose? They both looked pretty remote and narrow on the maps and it was not clear to us how to tap into the Swiss highway information network to glean the best advice. Our instincts led the way to the famed Juliapass over which Roman Legions had passed thousands of years before and had even set up a type of boarder crossing to collect tariffs (history's earliest toll booths), the ruins of which can still be seen.
| | | |
| --- | --- | --- |
| | | Crossing over the high mountain pass and with every graceful downward turn of the narrow highway we were spellbound and drawn to the view of the valley below appearing brilliantly white and ice-covered. Upon closer inspection after reaching the bottom, we realized that much of that brilliance was in fact a solidly frozen lake, which acts as the focal point for much activity in fashionable St Moritz. Our instincts allowed us to take-in all that was passing in front of our eyes as we lazily wound our way through town in relaxed search of our destination, the award winning Carlton Hotel. Our contact, the resort's General Manager was waiting to greet us as soon as we pulled in after we were so graciously received by the elegant doorman. As soon as he could, the GM indicated with assurance that many surprises were in store for us during the next few days and we agreed on the need to freshen up before returning to meet for a special drink in the lobby bar. |
Our impression of the noble Carlton Hotel rose with every step as we moved closer to our suite. Upon entry, we were immediately drawn to the brightness emanating from the floor to ceiling window/doors, which led directly to a private balcony. We dared not go beyond the curtains without donning our sunglasses for fear of blinding our already weary eyes. Hurriedly we searched the luggage until my wife Phyllis found her pair and raced through the curtains ahead of me to the edge of our private overlook. Although it was eerily silent, I could tell from the stillness that what she was focused on was indeed breathtaking. Finally I thought I heard a whispered call to come join her as a witness to this awe-inspiring vista. As I stepped out on the compact deck, it seemed to me that I was on a precipice overlooking a magnificent wooded valley that encircled an ice encrusted lake. I gazed steadily in silence at all the minute detail as if I were soaring like a hawk in search of prey. Out of the corner of my eye I detected motion in the presence of maddening stillness, and realized there was a feathery object floating aimlessly down the lofty slope behind the Hotel. Oh, just a skier with a parachute; how quaint, I thought as I watched him descend to the frozen lake hundreds of feet below us.
| | | |
| --- | --- | --- |
| It was at this point that we realized the bellman who brought us to the suite was still in the room. We turned and politely listened to his informative recitation about the hotel's amenities while our eyes readjusted to the dark interior. It was only after he departed that we realized how tired we were and collapsed in the giant featherbed for a quick power nap before returning to meet with our host in the Hotel Bar. Our meeting with the General Manager proved to be enlightening as we discovered how versatile the Carlton Hotel could be for each season in St Moritz. | | |
The Carlton Hotel which was built in 1913 is one of the premier all-encompassing resorts in all of Switzerland. It is fortunate to have been built in one of the most beautiful and charming locations overlooking a picturesque wide valley, as if it were at the rim of a natural amphitheater. With world-class skiing literally just minutes away from the front door, it is not uncommon to see skiers coming and going either by courtesy car provided by the concierge or by a typically Swiss horse drawn sled. We were informed that some of the winter activities enjoyed in St Moritz and co-sponsored by the Carlton Hotel include the formidable sport of Horse Racing and Polo on Ice on the solidly frozen lake San Murezzan in the center of the valley.
I wondered to what great lengths the people of this sparsely populated and semi-isolated region of Switzerland would go to find things to keep them entertained. After all, this area is known as the "Rooftop of Europe" where the sun shines on average of 322 days a year and can provide a spectacular environment for all types of winter and summer activities.
Directly in front of our magnificent balcony overlooking from the heights east to west you can see what it means to be inspired to explore.
We decided on a hike down to the frozen lake for a closer look.
The paths leading away from the Carlton are well marked with "wanderweg" (hiking) signs organized so that one does not have to leave as many breadcrumbs on the trails to find their way back.
Besides skiing and "Ice Polo and Racing", some other winter activities include: Ski Paragliding, Dog racing on Ice, Casino, Ski jumping, Golf and Cricket Tournaments on Ice and the legendary Cresta Run, a unique natural ice bobsleigh run.
If that is not enough fun for a week or so, then contact the St Moritz Tourist Board at +41 (0) 81 837 33 33 or on the web: www.stmoritz.ch
We took our time to enjoy the walk to the lake and when we started to step on top of the ice we discovered the tradition of basking in the sun while sitting on top of chairs lined with furs. This was of particular interest to my wife Phyllis who usually cannot tolerate much winter related activities without getting cold, but was totally at ease soaking in the sun while wrapped toasty warm and sipping on a glass of locally produced sparkling wine. It was now time to return to the Carlton to prepare for our much anticipated cuisine review in the Carlton's premier dining facility, Le Romanoff.
American Dream Cuisine™
Le Romanoff
Carlton Hotel, St. Moritz receives

Society - Extraordinary
6 Stars & 5 Stripes for
Extraordinaire - Society Cuisine & Service
The Ultimate Award:
Seven Stars and Stripes™
We had anticipated an agreeable and professionally prepared event since we had previously experienced many Swiss hotels that promised to deliver five-star standards and have lived up to the highest traditions. We were to discover that under the guidance of Executive Chef de Cuisine Lothar R. Molitor, the standards of cuisine have been raised to a new level of excellence. Chef Molitor prides himself on leadership of his 18 member kitchen staff through inspirational creativity garnered from years of experience working in California, London, Moscow, Jerusalem, Cancun, Germany and Italy.

Our entrance into the elegant Le Romanoff, named after Czar Nicholas II of Russia since the Carlton was originally built as his family's summer residence, inspired us with historical inquisitiveness as to this remarkable pedigree. We were elegantly greeted and escorted to our intimate candle-lit table by Maitre d'Hotel and veteran Silvio Rizzi. His presence in the restaurant is one of the essential elements for professional achievement and is a reflection of management's remarkable loyalty to its treasured staff.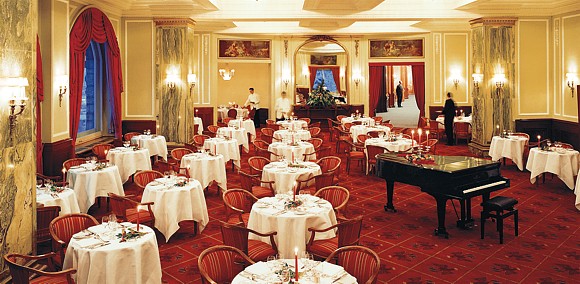 With gentle baroque piano music wafting in the back round and setting the stage for our royal dining experience, Silvio presented us with our specially created menus for the evening. To our surprise, Chef Molitor had chosen to embellish our evening with some of his favorite original recipes.
Upon being seated by the Maitre d' we were offered a complimentary glass of Laurent-Perrier Brut L-P N/V.
Laurent-Perrier's style is unique and well represented in this distinguished bottle.
Chardonnay is the predominant grape varietal and owing to its ability to portray freshness and elegance it remains true to the approach exemplified by the producer.
Characteristically rendering exceptionally fine bubbles, it allows for the persistence of white fruits suggesting a hint of citrus co-mingling with green apples and pears. A classic among peers, it offers great intricacy and balanced depth and richness.
We were now thoroughly relaxed and the mood was set for the cuisine show to begin in earnest.

Appetizer
We started with: Carpaccio of Selected Air Dried Grisons Beef with Rucola in Boletus Vinaigrette and a Small Mousse of Tomatoes.
This exceptional product is a specialty from the Swiss Alps.
It is made from selected lean parts of the leg of beef, which are treated with salt, a secrete mixture of spices and Alpine herbs and then dried in the crisp, clear mountain air in the valleys of Graubünden (the Grisons).
It has a unique, full-bodied flavor with a remarkably delicate consistency that is ideal with a hunk of crispy fresh farmer's bread and a glass of red wine.

Wine Selection:
2002 Pinot Noir Adolf Boner Kellerei, Malanser delivered a delicate cherry and earth nose with in a light body with mild tannins and herbal highlights.
As Phyllis was admiring the geometrically appealing design of the Grisons Beef, I was served a remarkable bowl of hearty Forest Mushroom Cream Soup literally served with a dollop of freshly whipped unsweetened cream, placed conveniently in the center of the soup just begging to be stirred.
Wine Selection: 2003 Sauvignon Blanc Barrique Jörg Saxer, Neftenbach offered a young, fresh wine with good acidity with a subtle hint of smoke and spice of white pepper working well with the earthiness of the mushroom.

With our taste buds sufficiently tantalized we awaited our next course and took some time to gaze out around us to take in some of the carefully inspired atmosphere. The management of the Carlton have made every effort to re-create the imperial grandeur reminiscent of the original patrons, Czar Nicholas II and the royal Romanoff family.
Main Course I
By now we noticed a flurry of waiters scurrying out of the kitchen and headed for our table with our next courses. Their trays were neatly organized with our dinners, each of which was covered with a majestic silver top. After a graceful landing near our table, the Maitre d'Hotel approached and presented our entrées by placing the covered dishes in front of us and then simultaneously removing both with confidence. My surprise consisted of Grilled Medallion of Angler Fish on Saffron Peperonata with mini Asparagus and Wild Garlic Gnocchi.
Also known as "Monkfish" in the US, it has a firm texture that allows it to be grilled without falling apart and has a flavor reminiscent of lobster meat. The wild garlic (bärlauch in German) is the leafy variety and is gathered in the forests wild in the spring and blended into a pesto so that it can be mixed to make the gnocchi. It imparts a subtle green garlic flavor and aroma and is known to improve metabolism and support the immune system in a natural way.
Wine Selection: 2002 Chardonnay Mayenfelder Schloss Salenegg Barrique, aged for 12 months in French Barriques it was fabulous as it delivered a light roasted aroma with vanilla bean in a full bodied harmonious structure.

Main Course II
For Phyllis it was Crepinette of Lamb Chops with Perigord Truffles, Spring Vegetables and Risotto out of the Parmesan Loaf.
An astonishing presentation of the delectable, visually appealing lamb surrounded by fresh baby spring vegetables interwoven with the delicate earthy aromatic scent of Perigord truffles laced with sharp parmesan cheese. This type of black truffle is named after the French province where it is found by the ancient art of using a pig or dog to help locate their elusive fungi. They have a superlative flavor and unrivaled ability to stimulate appetite while to some they are the ultimate aphrodisiac…….. Hummmm!

Wine Selection: 2002 Merlot di Losone Saleggi, Angelo Delea was the obvious choice for this dish. Visually red with violet reflections, powerful fragrance of dark forest berries with typically full bodied feel it 'cuts to the chase' for an appealing finish.


We were both so busy enjoying our entrees when suddenly we realized that an eerie silence had descended upon the table. It was definitely not time for conversation as we continued to savor each morsel of chef Molitor's creations. Upon completion of our dinner, the table ware was quickly and efficiently removed and after crumbing we were presented with an 'After Dinner' drink menu. "The Chef has prepared a special dessert for you" we were told, and maitre d' Rizzi suggested espresso to go with this soon to be seen finale.
Dessert
Our dessert course arrived and revealed itself to be Pear Sherbet with Praline Mousse in an Almond Tuile. A tuile is a thin, crisp cookie that is placed over a rounded object (like a rolling pin) while still hot from the oven.
Once cooled and stiff, the cookie resembles a curved roof tile. Ours was filled with the pear sherbet and praline mousse with a spun sugar accent radiating from the top and surrounded with delicately glazed fresh fruits.
Wine Selection:
1999 Mehringer Zellerberg Eiswein, Kellerei Lothar Molitor (Chef de Cuisine of the Carlton). A fitting surprise ending to an outstanding evening. This ice-wine from the Mosel region of Germany and the vineyards of Chef Molitor, proved the incredible depth and versatility which exists at the Carlton. This dramatic wine was tasty, luscious and sweet of the very best kind. It was lingering and powerful with an intense bouquet and after-taste of apricots and quince.

While we continued to sip on the remnants of the Ice-wine, we reflected on the originality and unique flavor combinations created by master chef Lothar Molitor and his able crew. With his leadership and ability to 'think out of the box', the Romanoff Restaurant will remain on the cutting edge for many years to come.
| | | |
| --- | --- | --- |
| Ingenuity inspired by years of experience and the willingness to venture onto uncharted grounds with daring creations are the hallmarks of this successful master chef as he furthers the quality and reputation of the Carlton Hotel in St Moritz. | | John Lomitola & Chef de Cuisine Lothar R. Molitor |
After dinner a feeling of blissful contentment overcame us and bid us to follow our instincts for quiet and restful sleep. Our suite was carefully turned down in the typical Swiss fashion complete with elegant rich chocolates strategically placed on each of our cumulus-like pillows.
It must have been about 1am when I awoke and realized that one of the 'floor to ceiling' windows was still open. As I stepped out on the balcony, a vision the likes of which is seldom seen in my part of the world appeared like an apparition in front of my eyes. The sky was deep ocean-abyss blue, the air crisp and clean, the peaks of the mountain directly across were almost brilliant white even in the darkness and the lakebed was visible. Although I didn't get a great response from Phyllis when I awoke her to share my dream, she soon thanked me and agreed that it was real.
Morning came quickly after this incredible experience of the night before. It was our habit in the US to wake up early and try to get a work-out in before breakfast.
We decided that we should have a few laps in the indoor heated pool located in the Carlton.
A vigorous work-out was not to be as we were just enjoying this amenity as an aid in starting our day properly.
Breakfast followed shortly after changing to more suitable attire and we soon became well acquainted with the Carlton's version of a typical Swiss breakfast. Fruits of every conceivable variety, assorted fresh yogurts, juices, breads and pastries and of course the famous Birchner muesli named after the 19th century nutritional concepts of Swiss Dr. Birchner-Brenner. And that was just the beginning.
Our Surprising Mountain Adventure:

On one occasion we were personally escorted by the GM of the Carlton to the 'Bergbahn', a sort of 'cog train' that could slowly transport skiers to the top of the mountain. The train brought us to the top of Corviglia to have lunch at Reto Mathis's restaurant La Marmite, a super special and unexpected gem of a dining experience.
| | | |
| --- | --- | --- |
| | | Reto went against the odds by establishing himself at the top of a mountain, which was limited to skiers eager to get a bite to eat for lunch. That was the traditional wisdom and needless to say Reto set up a gourmet venue, which through the tireless efforts of his wife and himself has reversed the tide of the norm. The proper marketing and promotional efforts have produced results, which allow people to enjoy truly exceptional cuisine, a banner wine selection featuring hand picked regional wines of Graubunden and a panoramic view to rival that of a soaring hawk. |
Upon meeting this exceptional man in the middle of a very busy day, he took the time to treat us to a bottle of his very special sparkling wine. This alone would have left us with quite an impression but Reto did one better; he took us outside and around the corner of his restaurant almost to the sheer drop of the mountain's edge into a large yacht (as in ocean going).
We were told by Reto that his yacht was designated as a member of the 'Highest Yacht Club in the World' even though it is surrounded by water in the state of snow. As if to drive home the point, Reto now decided to open his very special bottle of Verve Clicquot Ponsardin in the 'Sabrage' method, or opening a bottle with a sword.

Apparently, if done correctly the pressure of the Champagne always insures that no glass falls back into the bottle. Just as the bottle cracked and the cork flew into the snow, someone brought a thin crust pizza in covered with thin slices of black truffle. I dared not think of how much this might cost if one were to order it for lunch. Nevertheless, the addictive aroma of the earthy truffle seduced us into partaking in a few slices, along with the newly opened silky smooth champagne.
With the magnificent Engadine valley directly below the precipitous yacht, Reto beckoned us to return to the restaurant so that we could begin our special meal of locally produced fare. After 10 years at the top of Corviglia, Reto and his wife Barbara have built up quite a gourmet reputation for doing things to perfection in their flagship restaurant La Marmite. On our way in we passed an eye catching arrangement of superb looking pastries and confections that just begged to be tasted.
American Dream Cuisine™
La Marmite
Corviglia, St. Moritz receives

Society - Extraordinary
6 Stars & 5 Stripes for
Extraordinaire - Society Cuisine & Service
The Ultimate Award:
Seven Stars and Stripes™
The ambiance of the whole restaurant is one of eclectic originality with many locally made paintings, sculptures and other art objects spread all over. We were shown to our table located directly by a beautifully bright window with a view of the Yacht and valley below. Our hosts proposed a toast to our new friendship and ushered out an assortment of rather large thin bottles of Gerhard Hammerle Himbeer Edelbrand specialty raspberry schnapps from the region. We were soon drinking to our health as if joined at the hip with our new found friends of this fabulous 'mountain kingdom'!
Lunch arrived at the precise moment that the raspberry 'schnapps' began to reach its cerebral destination. For Phyllis it was a Corviglia bestseller the 'Carrousel' which consisted of a free-form arrangement of local foie gras and duck liver pate, smoked salmon and gravlaks (marinated salmon) with dill sauce. The foie gras was silky smooth and rich in flavor, truly a pure luxury that improves like fine wine.

For me it was tuna sashimi cloaked in black truffles and extra virgin olive oil and salmon caviar. Graceful slices of tuna belly gently placed beneath an abundant amount of pungent black truffles soaked in olive oil thereby imparting superb character to this centuries old delicacy.
A quick glance up produced a vision of Chef/Owner Reto gleefully shaving black truffles at another table as if he were leaving breadcrumbs on a forest path to find his way home. On came the next course with Phyllis receiving Carpaccio of locally produced Bresaola with Grana Cheese and Arugula. Bresaola is typically air cured in a special environment to achieve its moist and delicate texture with a musty bouquet and when combined with the delightfully sharp, gold grainy Grana cheese it calls to mind a slight grassiness from the meadows of the Upper Endgadine valley.

With every bite, we were convinced that there was an unmistakable upward movement toward perfection that corresponded to the lofty elevation of the peaks around us. Finally, our hosts returned to the table with a specially prepared dessert of pine tree ice cream with caramelized walnuts and red currant compote. If you have to ask me if I have ever had such a distinctive treat the answer is without a doubt, NO. The use of locally harvested pine nuts in the ice cream imparts a subtle resin-like flavor that works well when contrasted with the burnt sweetness of the walnuts and the tartness of the red currants.

After several delightful espressos and another round of raspberry schnapps it was time to venture back to the Carlton Hotel to prepare ourselves for an escorted personalized tour of the fabled premises.
| | | |
| --- | --- | --- |
| | | Personalized PICTURE - TOUR (CLICK HERRE) of the Carlton Hotel as promised, the GM met us for afternoon tea, which is served daily and offers an international assortment of the finest teas and house-made pastries from Chef Molitor's kitchen. In a comfortable relaxed setting, the GM began by giving us all the basic information and history of how this elegant luxurious establishment became what it is today. The most obvious element associated with its success has to be the Carlton's amazing location perched high above a picturesque lake surrounded by forested snow capped mountains. Next is its unique character, which is reflected by the meticulous attention to detail and refined touches adding to the air of privileged ambiance that is enhanced by the stunning views. |
Of course, all this would be meaningless without the total commitment of the well trained team members to the satisfaction of every guest's special needs, under the patronage and leadership of the polished management. Our gracious host now took us for a brief tour of the premises to expand our view of how it all comes together in a recipe for success:
Dinning and Lounging:

The Romanoff Restaurant - Elegant dinner (jackets and ties required) and breakfast
The Tschine Restaurant - A la carte relaxed dinner
The Empire Ballroom - Conferences and special events
The Sun Terrace - Food and drink service in a protected enclosure overlooking the lake
The Hotel Bar and Lounge - Specialty drinks in an intimate setting with piano music
All rooms are lovingly decorated and include a comfortable sitting area, satellite TV, mini-bar, safe and writing desk. Bathrooms are recently renovated in white marble. Rooms of unique character include modern, traditional and romantic style and all suites have 2 or 3 bathrooms and balcony.
The Carlton prides itself on being a full-service resort, so that all your needs can be met within the fabled premises. Some of the other amenities offered include:

Business Services Center
Courtesy Shuttle to Ski Lifts
Tour Desk
Children's Program
Currency Exchange
Turndown Service
Beauty and Wellness: A panorama swimming pool with Finnish and Bio Sauna, steam bath and fitness center are available throughout the day without appointment. Beauty Salon and Hairstylist are available by appointment only. The St Moritz Spa nearby is recommended for its famous mineral springs and cures (since 1537).

We were advised by the concierge and GM at the Carlton that a comprehensive VIP-TOUR of the downtown section of St Moritz and perhaps further on to some neighboring towns were a 'must do' on the 'Things To See List'. So, with detailed map in hand supplied by the Carlton, we ventured forth for an unescorted but well mapped out walk-about through this historic place.

As we began walking down some of the picturesque paths toward the village, we wondered how this incredible climate of warmth and sunshine fit so neatly into the realm of a bona fide winter paradise. We were told that it was early 1864 when a local hotelier issued a challenge to several of his British summer guests.
The common sense of the day considered staying in St Moritz for the winter basically suicidal. The challenge was to stay for the first winter and it was rewarded with sunshine and warmth that extended their contentment all the way to Easter!

Our experience corresponded quite similarly and the closer we got to the village we started to peal back the layers of clothes in an effort to cool off. Blinding visions of the frozen lake persistently peeked through the trees lining the streets as we went. We passed an odd looking tower that seemed to beg to be straightened up. Just underneath was a sculpture dedicated to a competitor on the famed 'Cresta Run', a world-class bobsled course.
We remarked to each other how charming the town still seemed even after hosting two Olympic Winter Games (1928 & 1948), four alpine skiing World Championships, numerous bobsled championships and many ski and windsurfing marathons. After all, St Moritz is the center for sports and fashion and has even registered its trademark name of "St Moritz, Top of the World" in over 50 countries for up to 15 categories of merchandise. Bally, Cartier, Rena Lange, Ferrè, Prada, Gucci, Donna Karan, Calvin Klein, Versace, DKNY, Ralph Lauren, Giorgio Armani, Bulgari and Louis Vuitton have a prominent visual presence in the center of town further highlighting St Moritz's connection with fashion.
In spite of all the luxury and style recognition that exists here, we both agreed that the underlying beauty and charm radiating outward was imbedded in the locals and their way of life.

It is not uncommon to see many horse drawn vehicles being used for various chores. The houses are proudly festooned with ornamental carvings and paintings. Statues of wood, bronze or stone often adorn sidewalks and fountains.

There is a notable quietness and calm that exudes throughout the day although there is quite an energetic nightlife if one is inclined.
For those seeking rejuvenation and restoration, we strode into a part of town known as St Moritz Bad that has been in use as a cure center ever since the discovery by the Celts and Romans. It involves bathing in an environment of bubbling mineral springs and alpine mud thereby harnessing the healing forces of nature. It is reassuring to know that evenings can be spent nursing the many aches and pains brought on by an overactive vacation mode.

On our way back to the Carlton we stopped at the visitors bureau located in the center of St Moritz to buy some old posters of the area and were told of a fun way to end our fabulous stay before leaving for Vaduz on the next leg of our journey. The bureau gave us a map of the Upper Engadine Valley and laid out a tour to the ancient city of Zuoz. Frozen in time, it is possible to imagine how life must have been years ago with traditional Engadine Valley houses that still have their haylofts and are elegantly decorated with floral boxes along with intricately colored murals. With so much to do before the next segment of out trip, we decided to head back to the Carlton and say our farewells to our wonderfully competent team of new found friends.
Cumià, Pasch! (Goodbye, Peace in Romansch)
by Phyllis & John Lomitola

Editor-in-Chief: Ingrid Lemme
© 2002 ~ Seven Stars and Stripes, Inc.