Pietermaritzburg, South Africa
World Level Perfection - Society
August 2012
7 Stars & 6 Stripes
Overall - 'Lodge & Service'
The Ultimate Award:
Seven Stars and Stripes®
Dreaming of Africa is what probably most of our fellow travelers on board Emirates Airlines 777-300ER did before we landed in Durban. We were looking forward to discover some of South Africa's finest hotels and resorts, including the Karkloof Safari Spa, an all inclusive wellness and wildlife retreat near Pietermaritzburg in KwaZulu-Natal. We arrived early August after a relaxing eight-hour flight under a blue South African sky with spring like temperatures. Customs was a quick and friendly formality and within less then twenty minutes our khaki uniformed driver welcomed us at the gate with a big, bright smile.
We hopped into a Land Cruiser, where our driver offered us a couple of cold towels, a cool drink and then quickly stored our Rimowa luggage. He told us that we should arrive at the outskirts of the Karkloof Safari Spa resort after about an hour. We witnessed how our surroundings turned slowly from the bustle of Durban, to the calmer outskirts of the city, then country roads and through wilderness, until we came to the entrance of paradise, defined by a stream and marked with a large wooden arch reading "Welcome to Karkloof Safari Spa".
Later on we would remember that riding through that stream signified entering this African dreamland and leaving the stressful world behind. Karkloof Safari Spa, named after the scenic valley, which is located in the KwaZulu-Natal Midlands, can be described as a luxurious eco - organic spa retreat within 3500 hectares of private land, with all the sights and sounds of an authentic African wildlife reserve. Here in private surroundings at the 'central lodge' we were welcomed with grand smiles and a couple of delicious organic fruit drinks.
The central lodge sparkled with old world colonial charm, original artwork, natural rock walls, randomly placed deep plush couches, stunning crystal & dark metal chandeliers and panorama windows. Artists from the local community had been commissioned to produce their creations for the lodge, mostly utilizing elements found on the property. At check-in it was explained to us that all that was needed in and about the lodge would be taken care of with just one signature. It's true, the price of a one-night stay includes unlimited spa treatments, or spa packages (The Spa is open for extended hours, upon request) and houseguests may choose from a variety of activities, such as guided game drives, bush walks, a 105 meter waterfall - (CLICK HERE to take a closer look) and historical excursions.
| | | |
| --- | --- | --- |
| We were guided into our accommodations, which was one of sixteen villas that have been individually designed for the most discerning guests, each exuding the feel of exotic elegance. The villas are connected through wooden walkways with the central lodge, dining and bar areas as well as with the spa. The walkways have a leisurely feel and wind through natural gardens while crossing over small meandering streams. Electric vehicles provide additional transportation to and from the central lodge for those who prefer. | | |
The villas are beautiful, with high vaulted wooden hut ceilings, while the furniture, decorations and fabrics artfully interpret the colors of the land. The bathrooms are elegant and spacious and expertly designed with heated towel racks, as well as heated floors. As a matter of fact the entire resort is equipped with a cutting edge floor heating system, adding especially during the cold season cozy warmth from the ground up. The bath amenities are organic and were developed for Karkloof, to support their unwavering commitment to the environment with their formulations mandated to be 'freely and rapidly biodegradable with no part of it that had ever been tested on animals'. One that we may especially recommend contains organic orange and frankincense oil, which proposes highly effective regenerative and soothing properties.
The villas have large covered terraces with beautiful mahogany lounge furniture, enticing one to relax here with a fresh organic fruit juice or a glass of fine South African wine and quietly absorb the views and sounds of this unique location. The photos that one will take right here are what African vacation dreams are made of. It is evident that no expenses have been spared and the hands-on owner Fred Wörner is the soul of Karkloof Safari Spa.
| | | |
| --- | --- | --- |
| | | Mr. Wörner has without a doubt exquisite taste and it is his attention to detail what makes this place perfect. We especially liked the fact that as a guest, you may request a consultation with the Chef de Cuisine to discuss your personal dietary needs and have your meals at whatever time you desire. (Karkloof Safari Spa RESTAURANT Review - CLICK HERE) Every night at turn-town, a crystal carafe filled with an irresistible sherry was placed on the table as nightcap. By the way, the only beverage not included, is French Champagne. The food at breakfast, lunch or dinner was beautifully presented on elegant white china (Steelite 'Organics' and 'Monaco') and prepared with mostly organic ingredients, grown in Karkloof Safari Spa's pesticide-free vegetable and fruit gardens. |
Karkloof Safari Spa's organic gardens were developed by Ms. Esther Nkosi (Please CLICK HERE to take a closer look), a lovely lady who taught herself all about formal organic gardening. The vegetables and most of the fruits in season are harvested about an hour before they are prepped and their taste is divine. Breakfast alone, served on the terrace of the main lodge overlooking one of the watering holes, was an unforgettable experience every morning. From presentation to taste to the smallest detail like the wild organic honey drawn from neighbor's bees, to the locally grown Avocados, to over easy free-range happy chicken eggs and still warm house-baked goods – this natural morning feast was setting the tone for a healthy day surrounded by nature.
The Karkloof Safari Spa is simply sublime and is said to be the largest destination safari spa in Africa. It is an eco-friendly and organic destination spa within a unique wildlife sanctuary featuring views that will take your breath away. For example, the glass front manicure and pedicure lounge is a startling delight for viewing the most amazing wildlife, ever changing and always exciting. Giraffes, Zebras, Wildebeasts, Buffalos, Black and White Rhinos, just to mention a few, roam freely on the property. The resort, including the spa building, which is set aside from the main building and the private villas is protected overall by security surveillance and is under a limited fly zone with altitude restrictions which makes it typically suited for celebrities, diplomats and other high-visibility guests.
Promoting organic and natural products in almost every aspect, Karkloof Safari Spa conveys a clear message, that it is not disturbing the indigenous forests; rather it is an integral part of it. All the buildings are covered with 'thatch & living roof' material, inviting all kinds of animals, like warthogs and nyalas to come and play, entertainment for all who came to get away. All of the treatments that we experienced at Karkloof Safari Spa were prepared with natural ingredients, like organic yogurt, cream, honey, fruits, spices and vegetables. The natural aromas that are drifting from the treatment rooms are divine.
(SPA PHOTO TOUR - CLICK HERE)
Mr. Wörner supports the local communities with a classical African philosophy or worldview "in the spirit of Ubuntu" by using products that are harvested from the surrounding Midlands, including his own organic gardens. The products that are used on the property are all biodegradable and environmentally friendly and the excess waters from the resort, including pools and floating salt pools are recycled through a natural process. The round floating Dead Sea salt indoor pool treatment is a deeply relaxing experience. While one is floating comfortably and almost immersed in the temperate warm waters with essential minerals replenishing the body, the 'sky' lights up slowly with endless little sparkling stars lifting the already weightless drift into a timeless dimension.
Another treatment one should not miss is the sixty minute 'Thai Melon and Honey Facial' with ingredients that are said to have been used for this facial ritual for centuries. All raw and organic ingredients are used for this treatment like cucumbers (cooling and hydrating properties), yoghurt (gentle exfoliation), melon (detoxifying and high in vitamin C) and honey (highly nourishing and hydrating components). Every step of the facial ritual as presented by my therapist was so flawless that the process itself was beautifully disguised.
Additionally, we feel it imperative to experience the forty-five minute 'Coconut Body Polish'. Coconut is known to be an important ingredient in the world of spas. Here at Karkloof Safari Spa fresh coconut is combined with Avocado oil from the neighboring Avocado farm. This gentle exfoliation leaves ones skin vital and visually revived. Karkloof Safari Spa also offers several Thai inspired ninety-minute massages of which some include Thai and Chinese herbs, essential oils and stretching techniques. The Thai Poultice Massage has been in practice since the 14th century. This is a unique massage-therapy in which a selection of Thai and Chinese herbs, warmed in a muslin poultice, is worked into the skin through reflexology strokes. The level of service presented at Karkloof Safari Spa is genuine and the spa personnel highly skilled. It is evident that the people who are employed here are proud of their work, their amazing spa and their team.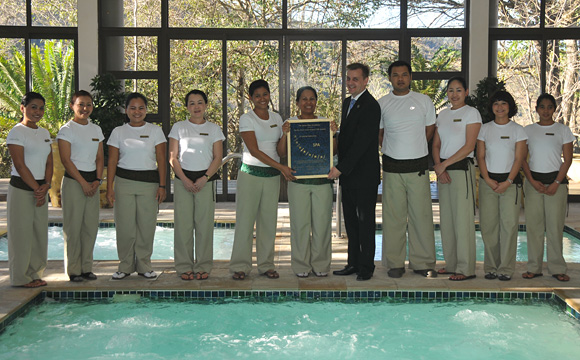 Karkloof Safari SPA- 2012 Award
"The fact that Karkloof Safari Spa's magnificent property is so profusely inhabited by Africa's finest, means there is no need for an early wake-up call… adventure when you are ready, the game rangers and our four legged friends are on standby to suit your schedule." Yes, we were ready! Ready to explore every single one of these 3500 hectares of incredibly diverse and infinite land. We had heard that Karkloof Safari Spa offers their guests the most distinctly unique safari experiences and we readily agreed after the first fifteen minutes on the game viewer with 'Kenny'.
There wasn't a moment where we didn't click our camera buttons profusely or forgot the click, because we were so excited. It was hard to believe that the Karkloof Safari Spa resort is located only thirty minutes by car from Pietermaritzburg by watching the abundance of wildlife here in its own wild habitation. We had a close encounter with a Rhino family, as well as Hippos, Giraffes, Zebras, Wildebeests and a large number of Antelopes, Warthogs and all sorts of Monkeys, while most times the adrenaline was pumping. This was not a ride through a petting zoo; this is the real thing. However the sanctuary is free from lion, allowing us to take the most fascinating close up photography.
Karkloof Safari Spa is famous for an exceptional controlled breeding program for their disease-free African Buffalo herds in order to increase the population of these distinguished animals. "The essence behind this is that unbeknownst to many, as Buffalo carry certain diseases such as Foot-and-mouth, Corridor Disease and Tuberculosis (TB), all of which affect cattle – the knock on effect of this can be extremely hazardous. Karkloof Safari Spa's Buffalo's are disease-free certified and the dedicated game and wilderness specialists working on the property are extremely proud of their accomplishments to date."
(SAFARI PHOTO TOUR - CLICK HERE)
Kenny, our safari guide was an experience himself. He rode that six-passenger game viewer like a stallion, with great skill while he freely shared his wealth of knowledge about all these exotic animals and birds and this unbelievable land they are roaming on. Of course, the game viewer was equipped with refreshments and all kinds of gadgets.
We especially liked that the group, the couple or the single person might determine the length of the safaris they like to take part in. After all there was at any time of the day a massage or spa treatment to indulge and /or a new lunch or dinner creation to savor while watching some of this fascinating wildlife right from the massage bed or the balcony.
The Karkloof Safri Spa resort is a true epitome of luxury accommodations and world-class spa-ing in an environmentally sensitive African wellness & wildlife retreat, giving you the feeling that it is a fantasy, a dream of ethereal magnitude bordering on the unreal. Our dining experience at this incredible place was an exceptional one as well, complete with the total sensory perceptions of exotic sights, sounds and flavors all rolled into one. The level of service presented at Karkloof Safari Spa was genuine and the spa personal proved to be highly skilled. It is evident that the people who are working here are proud of their work, their amazing spa and their team. Congratulations to a world-class team!
by Edmund Buehrmann & Thorsten Buehrmann

Editor: Ingrid Lemme

Editor-in-Chief: John Lomitola
© 2012 ~ Seven Stars and Stripes, Inc.