Vienna's Le Méridien

receives

Extraordinary - Society
5 Stars & 6 Stripes for a World Class Hotel

The Ultimate Award:
Seven Stars and Stripes ™
We landed at Vienna's international, busy airport in the early afternoon café-house hours. As soon as the swinging arrival door opened and released us into the imperial city, we were announced publicly: "Seven Stars & Stripes, please to the information counter", the voice was female, charming and clearly of Austrian descent. Vienna, here we come. Our chauffeur Leo Saltiel, a soft-spoken, elegant gentleman guided us to a black Mercedes limousine. We like most people who are visiting Vienna for the first time had a clearly established image about the famous city on our minds: Habsburg palaces, horse-drawn carriages, pretty ladies with huge stylish feathered hats and Sacher torte. We shouldn't be disappointed once we passed the industrial zones that surrounded the aristocratic mansions, baroque churches and a labyrinth of wonderful small cobble stoned lanes that make the inner city. That's when we were on alert, expecting to see Emperor Franz-Josef and his pretty wife Elisabeth any moment, and we did; on postcards galore. Vienna's famous coffee houses are bustling with people from every country of the European and world common wealth. Americans are welcome.
American Dream Man: CEO Stephen Alexander, who is at the head of about a hundred Le Meriden Hotels world-wide. He is as innovative as his product.
| | | |
| --- | --- | --- |
| Surrounded by Vienna's ever present history, it is almost surprising for us to find a new, modern hotel in the Kaiser's city, not only in décor but also in almost incomparable service. Vienna's Le Méridien combines centuries of European lifestyle with the future, or shall we say, presence. The hotel building is located across from the Viennese State Opera and adjacent to the Hofburg Palace in a historic apartment block of 19th century imperial Viennese architecture and has been transformed into a modern luxury hotel 'displaying' Vienna's most promising contemporary artists. | | Arrival Le Méridien - Leo Saltiel & Thorsten Piosczyk |
Located right on the famous Ring (means circle and a circle it is) strasse, that's where you want to be, exclusive shopping, museums, café houses; all in walking distance. It took Leo exactly 30 minutes from Vienna's International Airport to the Le Méridien hotel. Leo who has chauffeured the rich and famous of the world was highly impressed with our suitcases and just couldn't get over the elegant Rimova Golden Series; neither will Simone. Vienna's Le Méridien in is a hotel of 300 guest rooms and that should assure us of just about the right amount of anonymity that we prefer when we travel. The main entrance was relatively simple and in no comparison to what awaited us once when we entered the doors. The lobby: young and 'grand' and colorful artsy; decorated by Yvonne Golds of London. VIPs from the European TV show "Cooking with Friends" were hanging out in the lobby. And there she was, radiant like her hotel; GM Gabriela Benz who welcomed us with an equal grand, world-class smile.

Check-in was smooth and professional, just the right touch of 'Gemuetlichkeit', the # 1 seller in Vienna besides the Imperials, the Sacher torte, and Wiener Schnitzel.

Our accommodations were the ultimate 'inn' style; meticulous in details and squeaky clean. Simone was impressed with their housekeeping department, not a fingerprint anywhere, she commented. The view from our suite is the 'Ringstrasse'; the circle and it was breathtaking, the pulse of the city. Designer beds by Ligne Roset with extra thick Sealy's were fit for any princess (may she sleep on peas or beans…) and these crystal headboards were the latest innovation, glass windows with different carvings in every room were lit with soft lullaby colored lights. Let us take you on a Le Meridien VIP-TOUR

Arrival LeMeridien - GM Gabriela Benz & Thorsten Piosczyk
GM Gabriela Benz with a proven track record in managing 1st class hotels has what it takes, a little charm, a little beauty and a solid sense for business. Vienna's Le Meridians' 2nd year in business proved an occupancy rate beyond expectations.
Benz hosts award-winning receptions with perfection; literally, referring to the premiere dinner reception of the famous Josefstadt theater with Pulitzer Prize winning author Donald Margulies "Dinner with Friends", (Donald teaches these days at the Yale School of Drama) or the opening to the famous annual Fashion Week.
(Most recently on the American Dream®Show appeared Pulitzer Prize Winner Robert F. Keeler)
November 11th a year earlier she celebrated the Vienna Ball Season with the grand-opening of this 110 million Euro work-of-art hotel. The conference facilities are superb, soundproof, filtered day light, 21st and ½ half century tec & art. May we invite you to join us on a Le Meridien VIP-TOUR:

There is nothing, absolutely nothing that the architects of this unique designer hotel have left to unbridled imagination. Vienna's Le Méridien received the Maecenas award most recently for supporting the arts. Taste is here not relative. Taste is color in motion, and the walls are changing colors while we are passing, blazing white, eternal black, smooth beige, happy green, pretty pink and serious grey; there is something about grey. My wife Simone does not agree with me.

We passed other smaller lobbies with plenty of comfortable chill-out nooks always white porcelain hands with green apples on the matching tables; inviting us to harvest. An apple for Simone and me? The Garden of Eden has to wait; we are admiring the paintings that are breaking into the soft colored walls without pain. They belong there. The colors are light, pure, we feel honed and embraced, warm.
We had to get ready now for our dinner reservation and back in these utmost accommodations we were convinced never to raise from this incredible bed, and Europeans know how to design beds. Huge down comforters, duvet-covered with fine spun off-white linens, no additional sheets are necessary to fight with, unless one insists.

Security is essential; the in-room safes were equipped with inbuilt power outlet, just in case one wants to recharge a palm-pilot while they are for dinner. But, I was more interest in getting in touch with my editor-in-chief in New York, and the complimentary high-speed internet access was most accommodating, I had to submit a review by the morning and six hours of time difference can kill any deadline.

Le Meridien - Suite
A comfortably placed, hanging Plasma TV with Satellite Cable and entertainment center caught my attention; I quickly had to flip channels, the nude shower-gel commercials were breathtaking, by any means. The free-standing power glass shower with three level body jets were too inspiring and offered enough space for both of us. We'd found the in-room mini bar nicely equipped with a bottle of champagne, a local beer and salty snacks; so what the heck? We jumped from the cleansing shower into a champagne bubble bath for two. The bath amenity design matched the designer style; perfume included. The white fluffy towels with an old fashioned sense of summer lawn were comfortably pre-warmed. Not a finger print anywhere, mumbled Simone while she snuggled into my robe.
American Dream Cuisine™
Shambala at the
Le Meridien, Vienna receives

Extraordinary - Society
5 Stars & 6 Stripes for
Extraordinaire - Society Cuisine & Service
The Ultimate Award:
Seven Stars & Stripes™
We were really hungry, had reservations for two at the 'Shambala' restaurant which was created by Michel Rostang, the renowned Michelin Chef from Paris with Executive Chef Christoph Brandstaetter. We were welcomed with great smiles and warm hearts. The remarkable streamlined architecture with its innovative furnishings alone is worth a visit, even if only for a drink at the bar. This was in every sense of the word 'the art of dining' and as we were soon to find out, 'dining as art'.

A pleasant waiter approached us with an 'aqua carriage' offering 22 different kinds of waters from around the world. We recognized Voss from Norway, Hildon from Great Britain; but no Panna. A difficult choice, we tried, new to us, T´y`nant, a natural mineral water, sparkling, from Wales, Great Britain that could easily replace any of the Italian waters.
Surprise
The Aperitif de Vienna's Le Méridien: Champagne with parfait d´amour (liqueur with cloves), Grenadine, Blue Curacao - red like strawberry, fresh, tart and sparkling offering at first a powerful dose of the sweetness from the liqueur and later a tart freshness of the Curacao.

White bread with sesame and watercress cream spread ~ that was our 1st tantalizing taste, a nice and easy bread-spread. The grenadine was still lingering on our palates.

Greetings form the kitchen
Shrimp ball with herb yogurt sauce -
- Crisp and a little spicy, with several different kinds of textures, gently fried, fluffy and fun to eat. We noted the expert balance created by the addition of the cooling herbed yogurt sauce.
The atmosphere at the restaurant was intimate, softly hushed with impeccable, unobtrusive service, somehow giving particular thought to the meaning of Shambala as a 'mystic place of imagination' ~ somewhere in Tibet.
Amuse

Scallop and Meerwolf (sea bass)
- A gorgeous arrangement of two delicate seafoods purposely paired to reflect each others subtle sea notes of fresh ocean water.


The whole concoction is topped with crispy wafer of sesame toast and plump blanched St. Pierre tomato.
Simon's and my interest was now sufficiently peaked to ask each other what to expect next and the answer came quickly with somewhat of an ironic twist. We dared not ask for a clarification of the waiter's description on our next appetizer until we had had time to sample it:
Appetizer
Terrine of smoked tongue and cheek of pig and goose liver
- Not exactly my idea of a typical appetizer although it is well known that Europeans have a special way of making the most delicious creations out of all the unusual cuts of meat. We had to admit that it proved to be a very interesting experience!


Morillon Steirische Klassik 2002 Tement
Morillon is the Styrian (province in Austria) name for Chardonnay and the likes of this one can compete year after year with the best Chardonnays of the world. Winemaker Manfred Tement made his first wine at age 16 and is considered one of Austria's best vintners and modestly admits "The really good wines make themselves."
- The style is rich, creamy and voluptuous with a pleasant acidity, some subtle oak aging and full frontal fruit combined in a light yellow color. A true 'Cult Wine'!
European waiters are trained for years until they are fit to serve in fine dining establishments and that is here pretty obvious. Dinner is served from noon until midnight.

Please take a closer look!
Main Course I

Wolfsbarsch (European Bass) Fishsoup with chili and mixed assorted vegetables

- The secrete to a good fish soup is in the preparation of the court bouillon made tastier by the use of as many fresh vegetables as possible. The visual presentation is enhanced by its arrangement in a cannery jar that is usually used for preservation. 'Imagination run wild' under the direction of master chef Brandstaetter and his team.
The whole concoction was served with the lid tightly sealed so when the server placed it in front of you and opened it, an explosion of fresh ocean fumes immediately assailed the senses.
Sauvignon Blanc Summus 2002 Wohlmuth Laureate
- A delectable 'drink now' medium bodied wine with a spicy character. It works well with the fresh seafood soup as it imparts wafting aromas of fresh cut grass and McIntosh apple. Another superb example of the up-and-coming winemaking prowess of southern Austria.
Although our table was in the middle of the dining room we were seated in a comfortable, cozy booth which allowed us to keep 'A romantic dinner for two' constantly on our mind. "May I kiss your hand, Fraulein?"
Main Course II

Rotbarbe (Red Mullet) on sautéed Arugula and red pepper with purple mustard sauce decorated with rosemary, cherry tomato and jumbo shrimp.
- The portions were generous but never overwhelming. Brandstaetter plays with colors and textures as if the plate were a canvas that can exhibit his art


Cuvee Bertrand 2001 Gobelsburg
- A harmonious blend of Burgundy, Merlot and St Laurent varietals making it an excellent choice to pair with the meaty red mullet, peppery Arugula and piquant mustard sauce
Intermezzo
- The tartness of the lemon sorbet was a welcomed respite doing the job of cleaning the palate in a sort of 'seventh inning stretch' so to speak. This mid-dinner pause was further enhanced by the addition of the driest of the Moet & Chandon champagnes. It is known that Moet reserves its best cuvees for the bruts and this one reflects an agreeable blend of Pinot Noir, Pinot Meunier and Chardonnay. The forward feel of the lite mousse enters the palate with strength and exits in an understated fashion releasing flavors of green apple and citrus
Main Course III:

Filet of veal scalloped with bärlauch (wild garlic), truffled mashed potato and spring vegetables
- The neuron spiking truffeled mashed potatoes shall stay on my gourmet mind along with the ingenious use of locally harvested wild garlic as tasty method of holding in moisture and flavor. My compliments.
Simone: Tetuna Goldenits Burgenland
- 70% Blaufränkisch, 15% Zweigelt and 15% Cabernet Sauvignon produced in the area around one of the largest Steppe lakes in Europe. The soil provides an abundance of nutrients to support a multitude of vineyards in the environs. Aromas of blackberries and plums surround the senses with the palate receiving a slight hint of tannin and fruit at the finish.


Thorsten: Blaufränkisch Ried Gmaerk 2002 Triebaumer Ernst
- Another one of the exceptional wines coming out of the Neusiedlersee-Heuggelland community of Rust a short distance from the border of Hungary. This is a powerful wine not for the faint of heart and is very rewarding in its focused structure and balance. The essence of cherries and berries are woven like a tapestry into this dense and juicy red.
As the dinner plates were cleared, we decided to check out the dessert options. I tried to remind myself that I shouldn't expect anything less from Vienna judging from the overabundance of pastry shops, but the Chef de patisserie of this café house dream deserves distinct recognition for this creation, taste and art; a true Museum Quartier piece.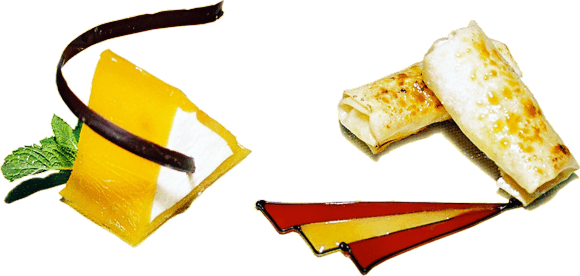 Dessert Sampler

Pyramid of passion fruit covered with jelly and exotic mango egg roll Decorated with leaf of peppermint
- You expect to find this kind of art on display at the trendy new Museum Quarter of Vienna surrounded by glass


Fried banana scalloped with blue cheese and sauce of Grand Manier
Once more combining the unthinkable with sympathetic ingredients cohabitating nicely together


Beerenauslese Cuvée 2002 Kracher www.kracher.net
- A blend of Chardonnay and Welschriesling. Pungent and rich with excellent, refining acidity. Labeled a "NOUVELLE VOGUE" with a #7 sweetness rating, it has a relatively high alcohol development with a texture of silky smooth orange peel.
Kracher has been called the King of Austrian sweet wines and owes his success to the prevalence of 'Botrytis cinerea' or noble rot, a condition considered essential in achieving naturally sweet wines. "I am lucky that the climate and the soil here work wonderfully together. I try to bottle what nature gives me," says Alois Kracher unassumingly about the wines some have called "Astonishing" and "The most delightful white wines you could ever imagine."

Roy Oude Alink & Thorsten Piosczyk & Christoph Brandstaetter
Executive Chef Christoph Brandstaetter's specialty is exotic & nutritional cuisine with a Frensh twist. Brandsteatter was educated in 'kitchens around the world' the international 'fusion' is present. Brandstaetter is a creative food art designer with a bright future.

Brandstatter's picnic baskets are famous for their creativity and beauty; just imagine how romantic a lunch for two in springtime would be somewhere on the grounds of the 'Hofburg' (Imperial palace). He prepares these gourmet baskets (including a tablecloth and blanket) with goodies like caviar, Jacobs's mussel tartar, and lemon grass consommé. But ordered at least three hours in advance, baskets may be filled with almost anything a true gourmet heart could desire.
Shambala is going to be a hot-spot, never the traditional hotel restaurant, by any means. Brandstaetter's cuisine is light, never fatty; he stays true to his healthy trend. But for his bouillabaisse creation in a canning jar he shall be celebrated; the aroma of the soup was simply superb.

After a good solid night's sleep in our futuristic color connected suite, Simone and I woke up with excitement; we both had dreamed of Vienna. Wien, Wien nur Du allein, du sollst die Stadt meiner traeume sein. Vienna, Vienna, you alone, you shall be the city of my dreams...
Vienna is an elegant and absolutely charming city, home to the Spanish Riding School. No visit is complete without a horse and buggy ride around the city center. The horse and buggy chauffeur "fiaker" in the local Viennese dialect, escorted us round the circle known as the Ring.
The stallions where covered with saddle blankets due to the cold, and so were we. Safely guided trough the traffic jam, Simone with her beautiful cold lips and rosy cheeks, we were good and ready for a tour of the heated halls of MQ.

Simone Bührmann - Ringstrasse ride
The Museums Quarter Vienna is the largest cultural art project in the history of Austria, as international PR Director Yvonne Katzenberg explained. Yvonne gave us the grand tour of this truly amazing center of art, contemporary art & culture center. Over forty different groups and initiatives worked and presented their projects in these 64,567 square feet facilities. This 'Living in Art' center was build over a time frame of three years.

MQ Mag. Yvonne Katzenberg - Thorsten Piosczyk
Yvonne's favorite spot is here on the roof nearby MQ and we can't blame her, the view overlooking thousands of years of history took our breath away. Literally.

Yvonne explained that an Artist-in-Residence program will encourage international cooperation between Austrian and international artists including those from the US. Talented people from 18 countries have visited and worked here for several weeks and interfaced with locals and their families and institutions. It is of interest to Austria's international image to invite young foreign artists to Austria and give them an opportunity to work in one of the world's ten largest cultural districts.
MQ's international position as art space in a unique architectural setting may be compared with MOMA's. By expanding infrastructure and adding additional cultural and recreational exhibition halls, it was possible to create space for large scale exhibits. With about 2 ½ million visitors this year, MQ has strengthened its position among the three most popular cultural attractions in Vienna alongside Schoenbrunn Palace and the Kunsthistorisches Museum.

It was an interesting and educating morning, we both enjoyed it very much; and we were hungry. We had reservations for 'Mittagessen', lunch that is. We jumped on one of these nostalgic looking, but high-technical trams (you've go to try this!), a 'Strassenbahn' which simply means 'street train'. Supposedly this was the safest way to get around in Vienna and witnessing from the tram how our horse & buggy carriage from last night was trying to mingle with the normal traffic, we highly agree. Our conductor called our stop 'Graben 19', a culinary institution since 1962.
American Dream Cuisine™
Julius Meinl am Graben
in Vienna, Austria receives

Extraordinary
5 Stars & Stripes for
Extraordinaire Cuisine & Service
The Ultimate Award:
Seven Stars & Stripes™
Julius Meinl am Graben, is a master piece of a restaurant; the historic building alone is worth a visit. Founded in 1862, it is today not only a coffee house, wine bar, 'konditorei' (pastry shop) & restaurant; it also features a culinary art food art exhibition that spills over two floors. House made Kipferln and Meinl's own coffee brand are so famous that many tourists order these 'hard to get' specialties right online when they get home. Meinl am Graben VIP-TOUR see also http://www.meinlamgraben.at
Meinl's wine bar and cellar is the in spot and meeting place for all kinds of friendly people. We went up a stairway to the restaurant and were welcomed like long gone friends. What is this about these Vienna folks?
Appetizer

Salad provencal with crawfish
- The sweet and succulent meat of the crawfish (freshwater relative of the lobster) was tossed with fresh garden vegetables and asparagus and presented itself as an incredibly multicolored clean tasting foundation for the rest of the culinary experience.
2001 Sauvignon Blanc Kranachberg, wineyard Sattlerhof Gamlitz southern Steiermark
- It is amazing that this outstanding wine is so little known in the US as it is winning awards and accolades throughout Europe. Give this wine some time to age gracefully but drinking it now will produce concentrated fruit with strength and balance, creamy texture with flowing fragrances of gooseberries, pippin apples and exotic lychee.
Main Course I
Brook trout with ravioli of pointed cabbage and brown butter
– Delicate filets of pan seared brook trout are enhanced by the nutlike flavor of the browned butter and accompanied by the cabbage stuffed ravioli to produce a mini-symphony of flavor.


1977 Riesling Steindl Spaetlese Trocken, vineyard Mantlerhof
- Produced by a wine growing family since 1365 in the Kremstal region west of Vienna. It is not unusual to find many white wines from Mantlerhof that have aged excellently as their oldest wine, a Gruener Veltliner has a vintage of 1947. Our vintage seemed young in comparison but was produced in an outstanding harvest year in which the Riesling grapes were naturally affected by the noble rot (Botrytis). Full ripe fruit upfront with classical semi-sweetness in the finish.
Main Course II
Turbot with nuts on celery and gnocchi
– Known in Europe as the 'King of all Fish', turbot is delicate in flavor perfectly pairing with the subtle scented braised celery root and potato gnocchi. It was the best fish I had eaten all year!


2002 Weiss Burgunder Jaegerberg, vineyard Sabathi Leutschach southern Steiermark
– A pleasant Pinot Blanc style with elegant white pear fruit nose, agreeable deep-rooted vale of sweetness and an impressive finish.
Main Course III

Quail with goose liver mousse, artichokes and mushrooms

- Splendidly smooth, strongly flavored goose liver whipped into wispy cumulus-like spreadable consistency thereby allowing itself to be consumed sparingly with every bite of the delicate quail. Artichoke and mushrooms round out this masterpiece with an earthy flavor.
2001 Pinot Noir, vineyard Loimer Langenlois
- Grown in one of the few "red wine isles" existing in the predominantly white Kamptal, where the soil heats up easily to create ideal growing conditions for the Burgundy grape. Red berries and spice predominate although it is characteristically light in structure and possesses a concentrated elegance.
It has been quite a learning experience for Simone and I regarding all the outstanding and virtually unknown Austrian wines that we were being introduced to during our cuisine review. To learn more about this well kept secrete it's time to check out:
http://www.austrian.wine.co.at/eindex.html where you can surf the various regions of Austria and see for yourself.
Main Course IV

Variations of calf with wild broccoli and mash leek-potato
– Austrians seem to have a love affair with veal and this is no exception. The perfectly pink center of the chop was soft and tender enough to cut with a fork. Wild broccoli is gathered in the spring and this chef deftly sautéed it and united it with a refined demi-glace reduction over leek infused mashed potatoes.
2000 Commondor CS-M, vineyard Nittnaus Gols Burgenland
- This wine is cabernet sauvignon driven with the international appeal of the soft tannin and morelo cherry. By the looks of this fine wine, it seems that the Austrian wine business is making a serious statement in the red wine category.
Dessert - Simone

Soufflé of passion fruit with chutney of mango and pawpaw on almond slices and sorbet

– Lite and fluffy exotic fruits contrasting through hot and cold temperatures in a nutty foundation of almonds.


2002 Cuvée Marie Théres Impérial, vineyard Halbturn Burgenland
- Expertly blending Riesling and Welschriesling varietals into an optimal balance of sweet and dry for a regal rendition of a classical Mosel. Aromas of banana and orange tantalize while a lite mineral nose reflect the strict selection of only the best fruit.
Dessert - Thorsten
Thorsten: fried Schneenockerl on rhubarb and toblerone-icecream

– Powdered sugar blankets the 'nockerl' or fried mini dumplings of odd shape, a somewhat sophisticated rendition reminiscent of fried dough at a state fair. The addition of rhubarb compote together with toblerone ice cream leads to the ever-present dilemma of when to stop eating!


1998 Trockenbeerenauslese "Morillon" Sattlerhof Gamlitz, southern Steiermark
- Golden yellow like a rich-man's treasure with complex fruit in the nose and a creaminess that adds structure to any dessert.
Meinl am Graben VIP-TOUR Our thoughts at this point were filled with images of Imperial Vienna and all its grandeur, after all being served in this elegant fashion in an establishment that has been in existence for 140 years is beyond explanation. Simone and I began to sit back into our seats to reflect as we savored the extensive onslaught of this remarkable cuisine.
Austrian Cheese ...It wasn't long after we returned from our dream that Meinl Assistant Restaurant Manager Michael Wiesinger approached with a rather large garadon filled top to bottom with an elaborate selection of Austrian cheeses. Cheese was never a big part of my diet but the boldness of the display made me want to try everything at least once.

Michael pointed determinedly to each one as he spoke their names, "Mondseer, Pinzgauer Bierkase, Tiroler Graukase. . . . ." I spoke up to ask for a description. "Tiroler Graukase is made from ripened sour mild curds washed with Penicillin mold during the ripening period so that the mold spreads from the surface inward sometimes leaving the center unpenetrated." More information than I really wanted but sufficient nonetheless to dare to try it. He continued his measured cadence, "Montafoner, Jochberg, Walder, Kugelkäse. . . . . . ." I'll take it, no matter what you said; what is it anyway? "Kugelkäse are fresh ball shaped cheeses which are flavored with caraway seeds."

Thorsten Piosczyk & Michael Wiesinger
Meinl am Graben VIP-TOUR As our dishes filled with the carefully arranged assortment of exotic smelling cheeses, I couldn't help but notice the wealth of knowledge and passion of Michael Wiesinger for these hand crafted treasures that rarely make out of the country.

Our waiter Didier El Senosy, who made us feel so warm and secure throughout our cuisine experience, now came to the table to ask if we could spend a few minutes to meet the other team members in the kitchen.

Thorsten Piosczyk & Dieter Breitkecker & Michael Wiesinger
Our guide led us into the modern well-equipped work place to meet Dieter Breitkecker the talented Sous Chef responsible for our delightful and creative dining experience. Breitkecker is in his element in the kitchen and commands the respect from his team members, a respect that has been garnered through years of education, hard work and natural instinct.

Breitkecker excels in his work under the guidance of Executive Chef Joachim Gradwohl who is quick to bestow an abundance of praise on his protégé. Together with Restaurant Manager Hermann Botolen and his assistant Michael Wiesinger, Meinl has found the right formula that can bring continued success in the face of Vienna's discerning international clientele.
After this delightful culinary feast we decided to take a walk to the theater. We walked through the bustling city, inhaling the charming Vienna world. We looked into bursting, beautifully decorated Konditorei windows galore until are finally came to the famous Hotel Sacher, which is famous for the Sacher Torte, we both whished for just little more space in our stomachs. And like from another planet almost across the street from Sacher, Starbucks! No need to worry Meinl, you have what it takes! Simone only needs to use the ladies room.
| | | |
| --- | --- | --- |
| Finally after a brisk walk we arrived at the historic theatre building the Raimund Theater, where elegantly dressed people are mingling. The Vienna accent is simply wonderful. Simone is glad that she packed her little black dress. Vienese are getting dresses in -style for their shows. Vienna's historic theater stages (With half a million visitors annually! ) are presenting Broadway and London's West-end smash hits such as Cats, A Chorus Line, Les Miserable, Phantom of the Opera, Disney's Beauty and the Beast, Chicago, just to mention a view. The most provocative and unusual show I personally have ever 'witnessed' is Barbarella. Nothing is left of Jane Fonda's Star Wars fairytale from the 60's. | | |
Starting February 2005: The Greatest Love story ever told. Romeo and Juliet with choreography by Redha Benteifour and Dominique Borg, a woman of great beauty who had performed the role of Julia in the past, herself.
The limo with a friendly, typically Viennese chauffer expected us at the main entrance: "Guten Abend die Herrschaften" said Hans. "Good evening…" hmmmm, here I had a little problem, I guess Herrschaften means honorable people?
Vienna at night revealed herself to us as we passed lustrous estates, horse drawn carriages and felt the excitement about being there, right there, in one of the most romantic cities of the world, Simone and I. A nicely chilled bottle of Dom Perignon from the prestige Cuvée of the Moët et Chandon Champagne house was gazing at us from a silver cooler, placed behind the drivers seat, and it had just about the right temperature; it just sat there waiting patiently to be killed. As we were approaching the Royal palace the champagne flutes were celebrating another wonderful day.

Le Meridien - Bar
By now we were good and ready for a night-cap, all day I'd waited for the moment where I could finally slip on one of the perfectly outlined bar stools. Viennese schnapps?

Simone had a Cosmopolitan and me, a perfectly chilled freshly drawn beer. This very night-cap setting would have been prefect for an episode of "Sex and the City". (Kim Cattrall is a staedy in the Hamptons, where our headquarters are located)
The music was wonderful and light; for this innovative bar music 'concert', DJ 'Arab' seemed to be responsible. Arab mixed contemporary and 'never-heard-of' tunes often according to the mood of the guests. The 'rhapsody in color' therapy on the walls worked for a great hour before it was bedtime.

We woke up in complete silence, no sounds from Vienna's outside world. These are greatly insolated buildings. Refreshed we are, indeed. The pleasantly warm linen sheets are honing our naked bodies, I don't feel like getting up, Barbarella still on my mind. But the Palace of Schoenbrunn and the Habsburg Princess Sisi is on Simones'… A ½ hour swim in the Endless Pool should get Barbarella out of mine.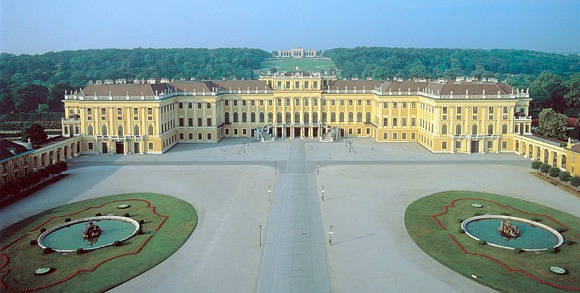 Schoenbrunn Palace is the most important cultural site in Austria and is definitely one of the major tourist attractions in Vienna. Soon after the end of the monarchy the palace was opened to the public, drawing around 1.5 million visitors annually. At the 20th session of the World Heritage Committee held in December 1996 Schoenbrunn Palace was put on the list of UNESCO World Cultural Heritage Sites. The institution that confirmed the importance of the palace and its gardens as a Baroque work of art was founded in 1972.

The Schoenbrunn Palace is a wonderful historic monument. Each room is decorated differently and features the most impressive antique furniture of the epoch and fresco ceilings and wall painting. The palace is a must to visit. Mozart played his first concert in the mirror room as a child prodigy when he was six years old.
We entered Emperor Franz Joseph and Empress Elisabeth imperial apartment on the 'Hollywood' stair case. Each imperial apartment room is decorated in courtly tradition and lifestyle, all twenty rooms.
The portraits of Empress Elisabeth and Emperor Franz Joseph the 1st as portrayed by world famous artist Franz Xaver Winterhalter, display powerful attention to each detail.
The empress's dressing room had undergone major reconstruction work, and is kept suitably after historical models; and Simone can now also view her elegent bathroom…
During the Christmas season, the doors to the Schoenbrunn Christmas Market are opened, this year for the eleventh time. For five weeks before Christmas the twinkling lights of the traditional Christmas tree right in front of the illuminated palace creates a charming old-world holiday celebration mood. Lots of exhibitors are presenting Austrian arts & crafts and original gifts such as hand-made holiday decorations. The fragrance of buttery Christmas Stolen, Gingerbread cookies, and hot cider with a twist ( Gluehwein) lingers in the air. Frohe Wheinachten.

LeMeridien - Thorsten Piosczyk & Katrin Reisinger
Our check-out was as pleasant, professional and as seemless as our check-inn. Thank you Le Meriden and thank you Vienna.

A successfully managed hotel, is a place away from home where people insist to stay, when they come back to visit your city. They shall refuse to stay anywhere else but there; Vienna's Le Meridian is such a place.
"Perfect works are rare, because they must be produced at the happy moment when taste and genius unite; and this rare conjuncture, like that of certain planets, appears to occur only after the revolution of several cycles, and only lasts for an instant." - Francois Rene De Chateaubriand

We shall return to find again that one moment in time.
by Simone Buehrmann & Thorsten Piosczyk

Editor-in-Chief: John Lomitola