Benahavís, Marbella
Society
July - 2012
6 Stars & 6 Stripes
Overall - 'Hotel & Service'
The Ultimate Award:
Seven Stars and Stripes®
Marbella is a sparkling playground on the Costa del Sol for the rich and famous of the world, mainly due to its incredibly mild, exotic year-round climate and easy access to the international airport of Málaga. Besides Marbella's Puerto Banús is a major destination for luxury cruise ships and pompous yachts due to easy access to exquisite shopping venues, dining and culture. We were on the way to the Villa Padierna Palace Hotel (Please CLICK HERE to take a closer look), a luxurious golf and spa resort hotel located in the beautiful hills of Marbella, a hallowed place that provides its guests with a much needed retreat from the ever-bustling tourist hub at their own leisure.
Circa fifteen minutes from Marbella, the driver followed a winding, cypress-lined road (Please CLICK HERE to take a closer look) that lead us to the outskirts of the sprawling green grounds of this stunning golf and spa resort. Surrounded by rolling emerald green fairways of three 18-hole golf courses and sweeping views over the ever so blue Mediterranean Sea, the Hotel Villa Padierna Palace is a sight one will remember. On a clear day, guests may see from here the famous Rock of Gibraltar and the coastline and mountains of Morocco, Africa.
Our arrival (Please CLICK HERE to take a closer look) at the Villa Padierna was what one would expect from the finest hotel on the Costa del Sol, carefully rehearsed and with ease; nicely chilled flutes of finely pearling Cava seemed to appear from no-where after the car doors opened. The sparkling wine, a traditional drink of the country was delicious! In the past, Cava was referred to as the Spanish champagne, which is no longer permitted under European Union law. According to Spanish law, Cava may be produced in eight wine regions: Aragon, the Basque Country, Castile and León, Catalonia, Extremadura, Navarra, Rioja or the Valencia Community. Our first impression after we entered the impressive 4 four-columned arrival hall was priceless; red rose pedals floating in an ancient basin, being gently swirled by a light summer breeze.
| | | |
| --- | --- | --- |
| On the way to our accommodations, we passed the Villa Padierna Thermae Spa, a unique medical wellness and beauty center that we will discover a bit later, and got to admire some of the amazing pieces of the forty million Euro art collection (Please CLICK HERE to take a closer look) that is on display throughout the entire property. Our accommodation '507' was a one-bedroom villa with a private pool and rooftop terrace. The Villa Padierna Palace offers approximately one hundred and thirty rooms and suites, including eleven beautifully appointed villas with fireplace, private swimming pool and all the modern amenities like hidden flat screen designer LCD TVs and of course wireless high-speed Internet access. | | |
One of the views from '507' was the 'Michelle Obama Villa' next door, named after Mrs. Michelle Obama, America's 1st Lady who had resided there a couple of years ago during a private vacation with her friends and her youngest daughter, Sasha. The furnishings and decorations (Please CLICK HERE to take a closer look) of 'Villa 507' as well as all the other accommodations are inspired by the traditional style of the Italian palaces of Tuscany, but non of them are said to be identical, and all feature original pieces of art and antiques from Ricardo Arranz's private collection.
It is hard to imagine that five years ago here on the very green grounds of where The Villa Padierna golf and spa resort hotel is located today, were just 4 columns and the vision of it's owner. (Please CLICK HERE to take a closer look) Mr. Arranz drew the plans for this amazing resort himself by hand nine years ago and sure enough five years later he celebrated the grand opening of Villa Padierma with his two sons Alejandro & Felipe and his family.
We entirely understand that this place provides the ultimate base for experiencing Marbella and discovering some of the small, whitewashed villages of the region, taking a day trip to Gibraltar, and mingling with the super rich and famous in Puerto Banús. However, Villa Padierna is surrounded by just that, the homes of the super rich and famous and some of the infamous as well. Family members are flown in from all over the world to celebrate their weddings at the Amphitheater atrium at the Villa Padierna Palace; the cuisine is superb and the wedding photos (SlideShow CLICK HERE) taken here are priceless.
Executive Chef Cristobal Gómez created a menu featuring an inspiring fusion of Northern and Southern traditional Spanish Cuisine. Before he came to Villa Padierna he successfully launched several restaurants for the "La Dorada" chain of Paris, Miami, Madrid, Barcelona, Sevilla and Marbella. Here during our private candlelight dinner on our roof top terrace overlooking one of the surrounding golf courses and witnessing an awe inspiring sunset over the Mediterranean Sea, I especially enjoyed my entrecote served on a slate plate. Interestingly, ninety percent of Europe's natural slate used for roofing originates from Spain. Mr. Álvaro Ruggiero presented this five-course dinner expertly and with pride.
| | | |
| --- | --- | --- |
| | | We tried one of our elaborate breakfasts in the privacy of our villa as well. The room service, arranged by our personal assistant Mr. Antonio Pineda, couldn't have been more proficiently timed. We especially loved the smoked salmon, the bowls of sweet black cherries and the Pata Negra 5J or Jamón Ibérico, a mouthwatering cured ham made from black Iberian pigs, found primarily in the south and southwest parts of Spain, including the provinces of Salamanca, Ciudad Real, Cáceres, Badajoz, Seville, Córdoba and Huelva. |
One day we played on the beach and for lunch we got to experience the elite Beach Club restaurant (Please CLICK HERE to take a closer look), which had been officially opened by Michelle Obama during her vacation here a few years ago. The beach shuttle to and from the Beach Club takes only moments. After we had ordered, the waiter came with a live lobster to the table to inquire if this particular member of the crustacean family would suit our appetite. The freshly cracked lobster as well as the sea-salt crusted Sea bass that we have ordered was simply out of this world. The Sea bass came baked in a sea salt crust; the crust was then artistically removed tableside and the resulting fish exquisitely tender and simply delicious. This method of baking in a salt crust ensures perfectly cooked, moist fish and is found in the coastal regions of Spain as well as in the south of Italy.
It was unfortunate that we didn't have the time to experience all of the three world-class 18hole golf courses (Please CLICK HERE to take a closer look) that spill over the hills that surround Villa Padierma but are happy to report that we got to experience some of the treatments at the Thermae Spa. The complimentary and alternative treatments that are offered at Thermae Spa are worth alone residing here.
The spa facilities are of exquisite taste, and filled with natural light. The expertly trained staff takes pride in their work, which feeds into the overall feeling of tranquility all helping to appreciate the different aromas that seemed to be streaming from nowhere but were aiming to relax. The beautiful Bali steam room was overflowing with the essence of fresh coconut and vanilla essences, while the almost esoteric Hammam steam room carried eucalyptus and mint.
We highly recommend experiencing the 'Spa Rituals Around the World' including Khanja of Africa, Scen Tao of Asia and Belaso de Brazil and one of their highly effective anti cellulite body polishes or anti aging facials. I was especially impressed with a 'Beauty Club Deluxe Facial' as practiced by Ms. Silvia Moreno, which included dermabrasion, triple oxygen and electro stimulation.
(SPA PHOTO TOUR - CLICK HERE)

Villa Padierna Palace - THERMAE SPA - Turkish Bath (CLICK HERE)
Thermae, named after the public baths of the ancient Romans and Greeks, offers a repertoire of spa treatments that is on a global level, remarkable. The 'Oxygen Bubble' (Please CLICK HERE to take a closer look), conducive to complementary and alternative medicine, is said to eliminate toxins and revitalize the body while breathing 99.5 percent oxygen. Let us assure you that hidden here on the hills of Marbella is one of the best medical and beauty spas of the world. Congratulations to Spa Director Ms. Auxi Velazquez and her entire team for running a world-class spa.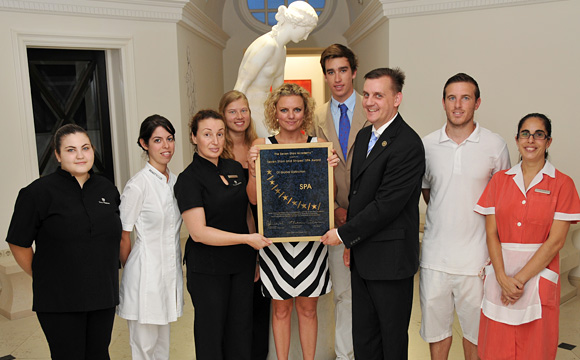 Villa Padierna Palace Hotel - 2012 THERMAE SPA Award (CLICK HERE)
Managing Director Martin Schneck (Please CLICK HERE to take a closer look) took over the Villa Padierna Hotels and Resorts in early 2012, with a successful history in managing luxury hotels in Spain such as the Grand Hotel Residencia on the Canary Island and recently the Fairplay Golf Hotel & Spa of Andalusia. Hospitality professional Martin Schneck is known for nurturing luxury properties to full potential, he has an eye for the smallest detail and a hand for flawless service. Congratulations to Director General Martin Schneck and his entire team (Please CLICK HERE to take a closer look) to a well deserved Six Star and Six Stripes Award!
by Edmund Buehrmann & Thorsten Buehrmann

Editor: Ingrid Lemme

Editor-in-Chief: John Lomitola
© 2012 ~ Seven Stars and Stripes, Inc.